William Cox was on his way home from the school run when he noticed billowing smoke coming from a neighboring apartment building.
"I just started screaming, 'The buildings on fire! Please get out,'" the Georgia dad told WGCL-TV.
The third floor of the apartment block was on fire and residents had no choice but to jump out of the window to save themselves.
Around 18 people were injured in the blaze on Friday with 7 people able to escape by jumping from the building.
"The third floor, the apartment was on fire. They had to jump out. (It was) the only way they could've survived. So I was just sitting there catching them and they knocking me down, but I keep getting back up to catch them," William said.
"My adrenaline was just rushing and I just wanted to get everyone out the building," he added.
Among those forced to jump from the third floor was a pregnant woman and a baby.
"I lifted the window up, and then I just started tossing my kids out. And then, once I got my kids out, I got my mother out," said resident and mother-of-three Ericka Burns.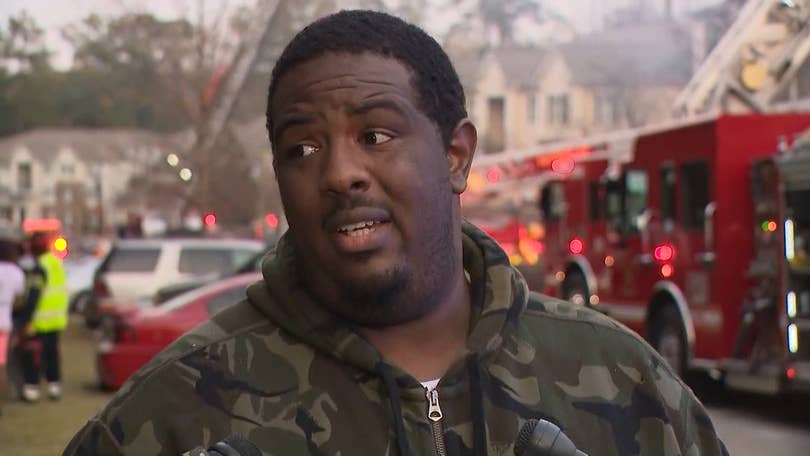 Georgia firefighters said 17 people had to be taken to hospital adding at one point the flames were 25 feet above the roof.
"I couldn't think, especially once I saw the flames. It was crazy. I never experienced anything like this in my life," Burns said.
Fire crews and residents have given William the apt title of hero, one which he's very modest about.
"Just catch as much people as I can, make sure everybody's out the house," he said. "Once everybody was out of the house, I was just relieved that nobody was killed."
This man is a hero. He didn't even think about his own safety when he stopped to help these people jump to safety.
Help us to honor William Cox by sharing this story with all the people you know today.