The mother of a kindergarten student at Crystal Hill Elementary School in North Little Rock, Arkansas is calling for her son's teacher to be fired after she learned her son was made to clean to out a toilet using his bare hands.
"They basically made him go in the toilet and get his feces and the dirty tissue out of the toilet," Ashley Murry told KARK.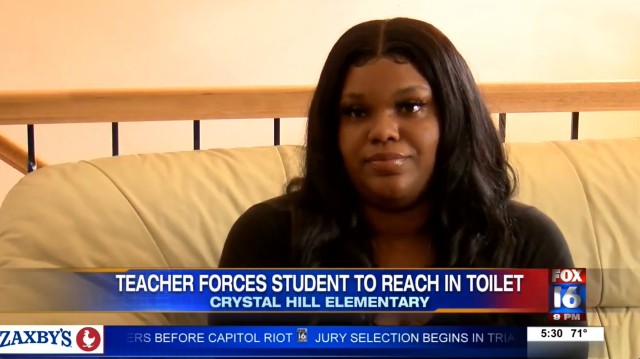 Murry learned of the incident when her 5-year-old told her over the weekend.
The boy's teacher reportedly told him to clean out the toilet with his hands because he had used too much toilet paper.
This is unacceptable," she said.
Murry's son was moved to a different class on Monday, and she spoke to the school's principal, but that wasn't enough.
"I feel like she needs to be trained, suspended or terminated or something because that's unacceptable," she said. "I want my son to be in a safe environment, a good environment."
She later received a phone call from the teacher, who has since been placed on administrative leave, but did not get any answer as to why her son was told to clean out the toilet.
"She got on the phone with me and she said she didn't have an explanation, she just knew she was wrong. But she stated to the principal that she was trying to teach how not to stop up the toilet," Murry said.
The Pulaski County Special School District is currently investigating the incident, an incident that has reportedly happened once before with another teacher.
Meanwhile, Murry wants to see more action.
"She needs to be terminated because you don't treat kids like this. He is a kid," she said.
"I don't ever want this to happen to another child again," the child's grandmother, Tami Murry said.
Can you even imagine? What kind of person would tell a child to put their hands in a toilet?!
What do you think should happen?
Share your thoughts with us on Facebook.