When Pastor John Lowe II ended Sunday's church service at New Life Christian Church & World Outreach in Warsaw, Indiana, he confessed something to his congregation.
"I will not use the Bible to defend, protect, deflect my past sin," Lowe said. "I have no defense. I committed the adultery. To say it plainly, I didn't make a mistake. … I sinned."
Initially the congregation stood and applauded his confession and decision to step down, but everyone fell silent once a woman took the microphone and claimed she was Lowe's victim.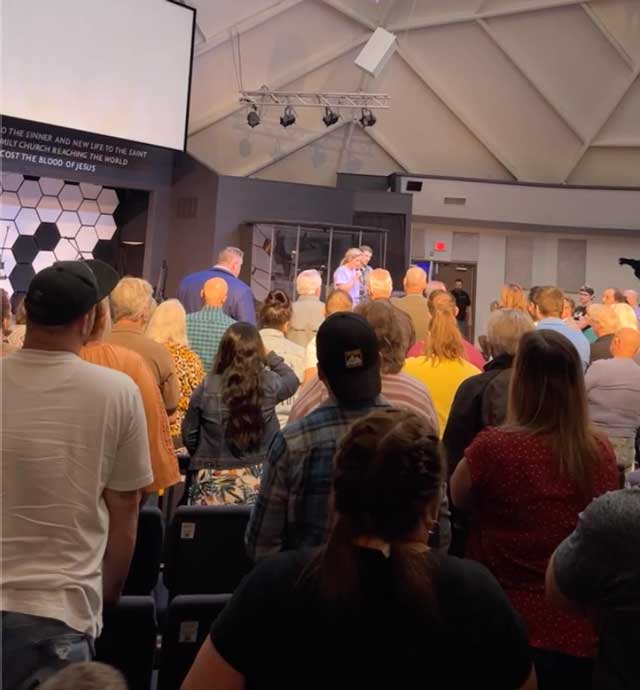 The woman, who approached the microphone with her husband, began explaining Lowe's story and filled in the details he reportedly left out.
The scene was captured on camera and shared on Facebook.
"For 27 years I lived in a prison. It was not 20 years. I lived in a prison of lies and pain. Lying to protect the Lowe family. I thought I was a horrible person having suicidal thoughts, not realizing what had truly been done to me," the unidentified woman said.
The woman who is now in her 40s said her older brother recently approached her about an incident he witnessed decades ago, and it was then she felt she had the strength to once again come forward with her story.
"I am a prisoner no longer," she told the congregation. "I was just 16 when you took my virginity on your office floor. Do you remember that? I know you do…. You did things to my teenaged body that had never and should have never been done… You are not the victim here."
'It was far beyond adultery.'
She claimed the abuse went on for nine years, and while she attempted to tell people no one would listen.
But now people are.
Video of the confrontation has reached more than 700,000 views online and the story has made national news.
The congregation demanded Lowe respond to the allegations, and Lowe replied "I told you I committed adultery. I told you it went on far too long."
Even after admitting he had a sexual relationship with a 16-year-old, Lowe once again asked for forgiveness, and several members of the congregation surrounded him and said a prayer of the now disgraced pastor.
Watch the "confession" below.
According to WANE, police are investigating the matter.
As of May 23, Lowe is no longer the pastor of New Life church. The church released a statement about the "long-held secret" following Lowe's confession.
They said that until recently none of the accusations were known. The victim had only recently come forward with her story, and when confronted by church leaders Lowe confessed in private.
In the wake of what has now been revealed, we are hurting and broken for a woman who has lovingly attended and served in the church for many years, as well as for her husband and family. It is our deepest prayer and commitment to love, support, encourage and help her through a process of healing in any way in which we are able.
The church also expressed their "brokenness" and support for Lowe and his family.
This is horrible to think about. I do hope the authorities do a thorough investigation so the victim receives justice.