The terrifying reality is that life can change in an instant, and the worst of it is that we never know when it came happen.
May 24 began like any other day for Arnulfo Reyes. It was the end of the school year which meant the third and fourth grade teacher at Robb Elementary School in Uvalde, Texas had an easy day planned for his students.
Awards and a movie.
But moments after 11:30 a.m. everything changed.
Now Reyes, the only survivor in his classroom is speaking out and asking for forgiveness.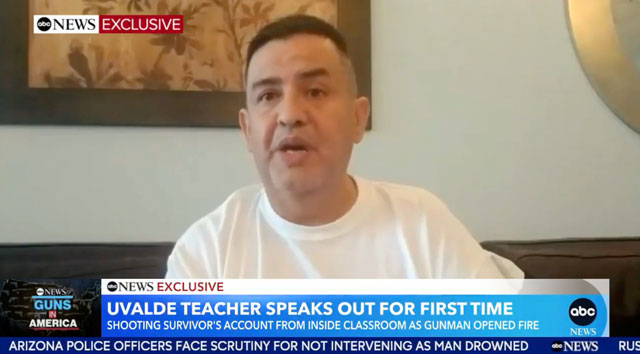 "I feel so bad for the parents because they lost a child," Reyes told Amy Robach of Good Morning America. "But they lost one child. I lost 11 that day, all at one time."
Reyes and his students were watching The Addams Family when a gunman stormed into their elementary school.
The 17-year veteran teacher remembered hearing a bang. His students, who were in Room 111, one of the adjoining classrooms where students were murdered, frantically asked their teacher to explain the noise.
'What's going on, Mr. Reyes?'
He told them to get under their desks and pretend as though they were asleep.
"[The students] were going under the table, and I was trying to get them to do that as fast as I could," he said. "When I turned around I just saw him."
Reyes was shot almost immediately. A bullet went through his arm and lung, while another bullet went in his back. He us currently in the hospital recovering.
While Reyes lay injured, the gunman turned his weapon on the children. He was forced to listen as children from the adjoining classroom called out for help, but no one came to their rescue.
By the end of the 77-minute massacre, 21 people were killed – 19 students, 11 in Reyes' classroom and two teachers.
As Reyes continues to recover from his physical injuries, he's vowed not to let those who died die in vain.
"The only thing that I know is that I won't let these children and my co-workers die in vain," he said. "I will go to the end of the world to make sure things get changed. If that's what I have to do for the rest of my life, I will do it."
Hearing Arnulfo Reyes' account brings so many emotions to the surface. I'm sad for the families who lost loved ones, and I'm angry that we have to go through this yet again.
When will we see change.
Share this if you want to see some serious change.