While Sen. Ted Cruz jetted off to Cancun for a super quick getaway, countless others, including President Biden and Rep. Alexandria Ocasio-Cortez, offered their help to the victims of the winter storm that slammed the state of Texas.
But there was also many ordinary people who stepped up in a big day, Chris Wieland was one of many who lent a helping hand.
"I started seeing a lot of the people down here in the Killeen area that were going without and what they were going through," Wieland told KXXV.
Wieland lives in Tennessee, but decided to make the 14 hour drive to Killeen, Texas, a location he chose because of a connection to an old friend, after he saw the condition some people were living in the central Texas city.
So he posted a video on TikTok asking his nearly 98,000 followers for help.
He hoped to receive a few hundred dollars in donations, which he planned to match, but within a few days his followers surprised him. In just two days they raised over $7,000.
Wieland took the money and purchased items – water, PVC pipes, wipes, and food – that many Texans desperately needed, but couldn't find in stores.
Then he drove 14 hours and parked his truck in a parking lot and began distributing the items to anyone in need for free.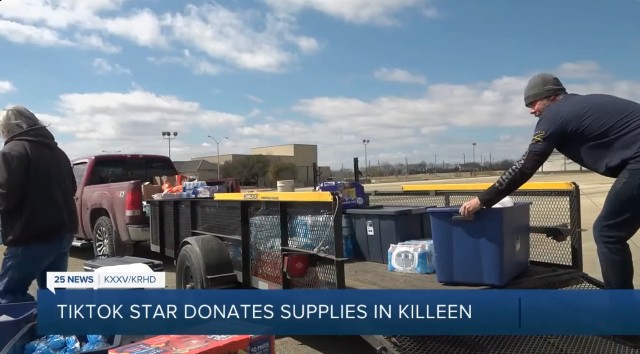 "Chris is definitely a blessing to people here that's getting the help that he's providing," Sherree Schilling said. "That's just really awesome, you know, to collect money from his following using that TikTok…to receive donations to help a community in need."
Wieland was glad he could offer assistance to Killeen's residents. He was also happy because doing so gave him a bit of closure years after the death of a friend.
"He served in the military out here and he took his life a few years ago," he said. "I've never been able to give him anything back or his community or his family. "
Thank you Chris for using your following for good. You have helped so many people in need with your selfless act.
Share this good news on Facebook. We need to hear more stories like this.