A Utah Highway Patrol trooper was prepared to speak with an impaired driver when he encountered a vehicle driving in and out of an interstate's lanes at 30mph on Monday afternoon.
But when UHP trooper Rick Morgan stopped the vehicle and confronted the driver, he did not come face to face with someone who was under the influence. He looked right into the eyes of a 5-year-old boy.
"He was sitting on the front edge of the seat so that he could reach the brake pedal to keep the car stopped while I was standing there," Morgan told KSL.
Morgan can be heard in dash cam footage asking the boy his age, which was later confirmed by family members.
"How old are you? You're 5 years old?" said Morgan. "Wow … Where did you learn to drive a car?"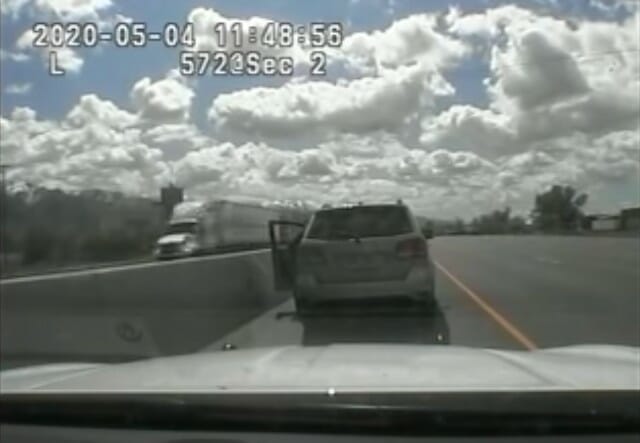 After speaking with the boy they learned he planned to drive to California, where his sister lived. He also planned to buy a Lamborghini.
Troopers were able to contact the boy's parents and learned that earlier the boy's mother told him he was not allowed to buy a Lamborghini. Although he had never driven a car before nor acted out in a similar manner, it's possible his attempted getaway stemmed from the earlier disagreement.
At the time, his parents were at work and a sibling was supposed to be watching him.
"I have a son who just turned 6 and I can't imagine him being able to figure out how to get behind the wheel or even having the want or willpower to be like 'I'm going to California to buy a Lamborghini,'" UHP Lt. Nick Street said.
Thankfully, no one was hurt and no property was damaged, but it's possible charges may be filed.
"We're counting our blessings (nobody was hurt) but that doesn't mean a high-risk situation that put a lot of people's lives in jeopardy (didn't occur)," he said. "Based on that, we'll talk with the county attorney and see what charges they would like filed or screened with them and we'll do that."
Share this and let this be a reminder to everyone to keep their car keys away from children and keep their vehicles locked at all times.