When valedictorians and salutatorians give speeches at their graduations, it's their opportunity to reflect on the past several years, thank those who helped the graduating class succeed, and deliver an uplifting message to their classmates about the future.
Nataly, the valedictorian at San Ysidro High School in San Diego, California did just that. Except it wasn't your run-of-the-mill graduation speech.
As Nataly stood in front of her classmates, teachers, family, and friends, she thanked those who helped the Class of 2019.
"Thank you for being so invested in your students' education and well-being," she said.
Nothing unusual about that.
But then she got a little more specific.
"To my counselor, thank you for letting me fend for myself – you were always unavailable," she said. "You expressed to me your joy in having one of your students be valedictorian when you had absolutely no role in my achievements."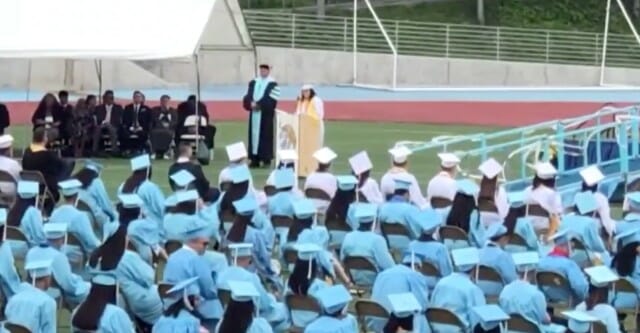 For the most part the crowd remained silent, but then Nataly thanked a teacher for showing students the dangers of alcoholism and gasps filled the football field.
"To the teacher that was regularly intoxicated during class this year, thank you for using yourself to teach these students about the dangers of alcoholism."
In a statement to News 8, Nataly said that the first half of her speech, where she thanked teachers and staff who "went above and beyond for the students" wasn't shown on social media.
"I understand that those I criticized may be facing personal issues, but I don't think that should affect their commitments or the school's responsibility to fulfill those commitments," she said. "I didn't expect for change to come from my speech, but I was hoping it would encourage more students to speak up."
The school district responded to Nataly's speech by saying it was "unfortunate that she decided to air grievances," but the high school graduate is glad she spoke up.
Watch part of Nataly's speech down below:
I never talked to her in high school but she really took a dub with this speech pic.twitter.com/4wvzYqM12e

— Adrian Melgoza (@Adrianmelgoza21) June 7, 2019
She's received praise from her family, friends, and online, but what do you think of Nataly's speech?
Let us know!