A Pennsylvania woman who always dreamed of having a large family finally got her wish.
Peggy Koller, 99, recently got to meet her 100th great-grandchild.
The meeting was made even more special when Peggy learned of her great-grandson's name, Koller William Balster, named after her husband William P. Koller.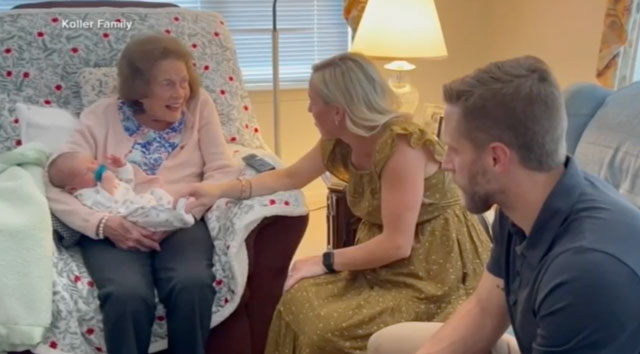 Peggy was born on November 28, 1922 in Pennsylvania. She was an only child and desperately wanted siblings.
"I wanted to have a big family. I think it's difficult being an only child – it's lonely," she told Action News 6 in 2015.
In the early 1940s she met William Koller, who she eventually married. But the two almost didn't end up together because in junior high Peggy had applied to become a nun.
It was William who had to talk her out of it.
Big family
The couple married in 1942 and went on to have 11 children.
"I figured I wanted 12 but after I started to have them, I wasn't sure I wanted that many," Peggy said.
As time went on their family continued to grow. After the Kollers' 11 children came 56 grandchildren followed by the newest additions, babies number 99 and 100 who were born within one week of each other.
Chrissy Balster and her cousin Colleen were due just one day apart, but in the end Chrissy's son was born last. And perhaps it was meant to be that way because Chrissy and her husband named their son after Chrissy's grandfather.
"My husband liked the name Kole, and it felt very natural to name him Koller and William as the middle name," she said. "And then we can always call him Kole if we like."
After little Koller William was born the first stop the the family was to Grandmom's house to introduce the 100th great-grandchild to his great-grandmother.
"I'm just thinking about how lucky I am," Peggy said.
May God continue to bless this precious family!
Please share.