Conjoined twins Eva and Erika have spent most of their young lives in hospital.
They remained conjoined until they were 2 years old and celebrated their third birthdays for the first time as individuals.
When their parents received the devastating news that their babies were conjoined they were told to prepare themselves for the worst.
Conjoined twins are rare and their chances of survival are even rarer. About half are stillborn and an additional one third die within 24 hours.
They couple reached out to Dr. Gary Hartman at Lucile Packard Stanford Children's Hospital in Palo Alto, California, an expert in conjoined twins, who had performed six successful separation surgeries.
He warned them that it may not be possible to carry out the surgery and if it was their quality of life would not be good.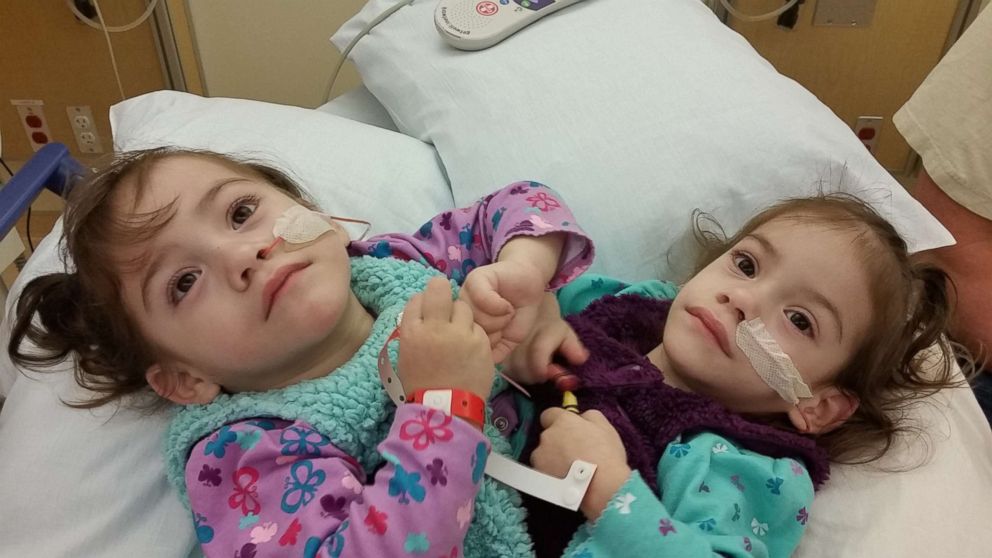 Mom Aida Sandoval gave birth to her babies at 33 weeks in 2014 and the girls spent 7 months in hospital. At 2 years old their health started to decline and so they made the 3-hour journey from their home so their girls could have the surgery.
It took a team of 50 people and after 15 hours in surgery the girls were successfully separated.
Three months after their surgery the girls were allowed to go home. Eva and Erika attended physical therapy and were fitted for wheelchairs; they could even walk outside after a stroller was built for the two of them, ABC reports.
Stanford Children's Hospital said the sisters are now in kindergarten and have "mastered using a combination of their walkers and prosthetic legs to get around."
Doctors aim to transition the girls to using their prostheses with walking sticks for balance and support."
"Erika loves to get her prosthetic on and walk around the house," mom Aida said. "I can picture how she'll be doing it on her own as she gets older."
The girls are a far cry from their situation as infancy.
"When I see the pictures, I can't believe we were there," Aida said. "It still amazes me to see them at this point in their lives."
Wishing these gorgeous babies the happiest of birthdays! They are true miracles.
Please share if you too love their story of survival against all the odds.