Anyone who has visited Las Vegas will know they can expect all kinds of weird and wonderful sights, but one couple traveling through was forced to pull over on the other side of the road to investigate a shocking sight.
On a busy highway alongside the desert, the couple couldn't believe it when they spotted what they thought was a child.
The couple's dashcam recorded the moment the husband exclaimed in a panicked voice: "Is that a little kid? Turn your flashers on!"
The man continued to repeat "turn your flashers on" to his wife who was driving in a mix of confusion and shock.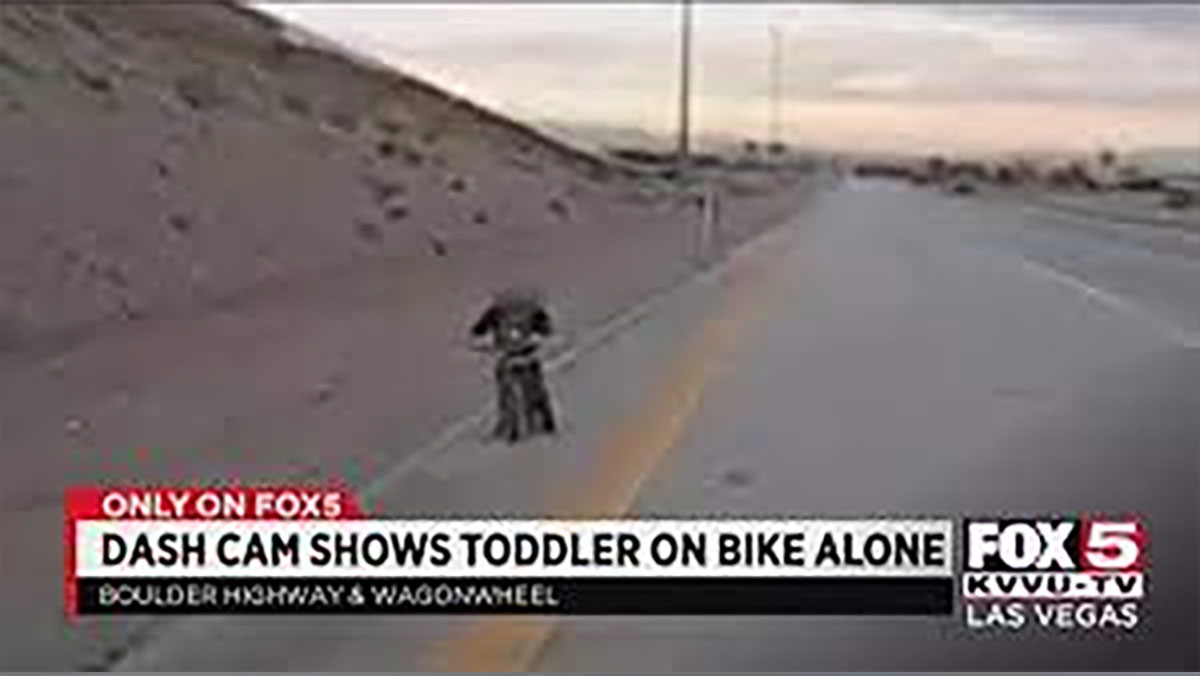 They had to pull over on the other side of the road so they could check that they weren't experiencing some kind of mirage but sadly not, there on the side of the road was a toddler wobbling along on his bike.
The child was on a training bike which has no pedals and teaches young children to balance on a bike before they move to the next stage.
The dashcam footage showed the husband getting out of the car and running toward the child with open arms while his wife did her best to block traffic so he didn't get hurt.
Another driver in a car pulled over and called the police.
When asked by the other driver if he lived in the nearby housing complex, the boy nodded.
The couple then went door-to-door in the neighborhood asking people if they knew whose child it was and met resident Matthew Eskridge.
"He asked me, 'do I know who this kid belongs to?' I'm like, are you serious?" Matthew told Fox5 News.
He didn't know who the boy was but didn't hesitate to help find the child's parents.
"As I came out the mom was running down the street and she ran out the gate cause she'd seen the cars parked on the side of the road," Matthew said.
Matthew said the mother was so frantic, she ran right past where her son was.
"The lady was holding the bike and she was like, 'your son is in there!' So, she turned back and they met [in my driveway]," said Matthew.
The boy had managed to get out of a gate on his bike and rode across the 2-lane highway. He was found peddling on the side of the road toward oncoming traffic. Thankfully, he wasn't injured.
Thankfully this boy was stopped when he was; he's such a tiny thing the thought of him riding his bike along a busy highway is terrifying.
Help us pay tribute to all the people who helped to return this little boy to safety and back with his parents by sharing this story. Please share.