It didn't take long before Riley's parents realized something was not quite right with their newborn baby girl.
She didn't respond to sound at all. They began to suspect to that their daughter had a hearing problem.
Of course, as a parent, you hope for the best for your child and do everything in your power to help them. So Riley's parents took their baby to see the doctor.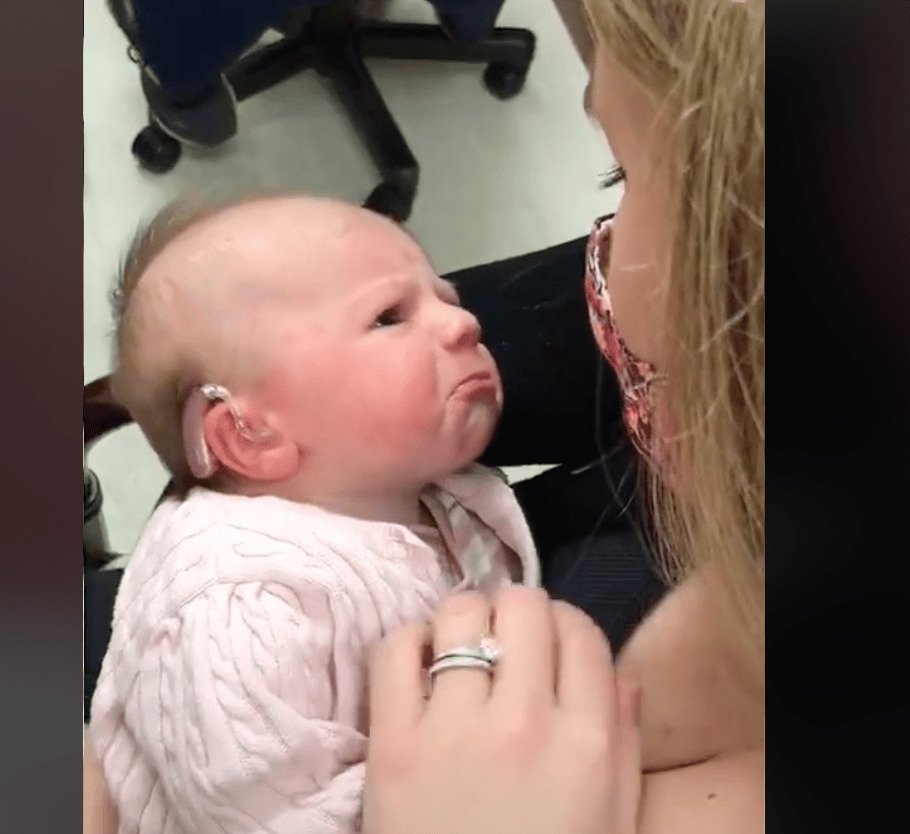 Children learn from an early age to develop thoughtfulness and emotional well-being through listening.
It is not common for small children not to hear, but if you suspect that this might be the case with your child, it's important to seek help early on.
Getting help early on will promote their language development. The sooner they get the right tools, the faster they can develop their language.
Riley was born to her parents, Christina and Andrew Pacala, in October of 2020. It was not long after Riley's birth when her parents found out that the tests from their audiologist revealed that their newborn daughter was deaf.
As do many parents of deaf children, the Pacalas found the deaf community in person and online. When Riley reached five and a half weeks old, they had her fitted for a listening device.
Christina and Andrew also enrolled their daughter in a deaf nursery where deaf teachers teach the students. They even enrolled in a course to learn ASL–American Sign Language.
As they built their online presence, the Pacalas shared more and more about their journey with Riley on social media. After Riley reached one year of age, Christina even posted a video from when Riley had her hearing aid in for the first time.
In this truly heartwarming video, this infant is fitted with her first hearing aid and reacts to hearing her mother's voice for the first time.
The video, which has gained over a million views on the site, has almost overwhelmed the family. Christina said:
"This was a really special moment for our family. You think about things like, will my daughter ever hear my voice. And, you know, at the time, that was … a scary thing as a hearing person who doesn't know anything about deafness and about deaf culture."
The mother has used her status on social media to help raise awareness for deaf children and their parents.
"We're excited to be able to share our journey and hope to help people understand that deaf kids can do absolutely anything," shared Christina.
We think what Christina is doing is wonderful in helping families like the Pacalas! Let us know what you think of this heartwarming moment in the comments.