You may have already seen it, it's a scene that's played out multiple times across the world as friends and family separated by the coronavirus attempt to reunite.
This time that photo that went viral was of a father, who has been quarantined away from his family while he works at a hospital, and his son.
"He is working right now in a rotation that has him all over the hospital, including the ER, and he just felt like it would be responsible for us to quarantine from each other," Alyssa Burks told KATV.
One day Jared Burks returned home to see his family and while staying on the other side on their home's glass door he witnessed his one-year-old son Zeke crawl for the first time.
"As soon as he saw his dad he just raced to the door," Alyssa said. "He got up on the glass because I think he wanted him to hold him, so it was sad, it was cute, but it was really heartbreaking because it's hard."
But just days after the emotional photo went viral, the Burks family lost their home to a tornado.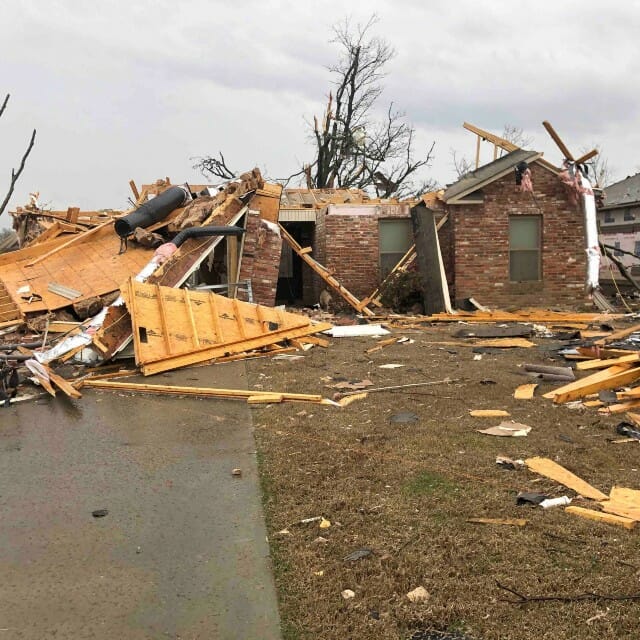 "We are all safe. Our house is gone," Alyssa wrote on Facebook. "Jared was inside, but he survived by the grace of God."
While the Burks lost their Jonesboro, Arkansas home in the tornado that injured 22, they still have each other and the heartbreakingly emotional memory of Jared seeing the couple's son crawl for the first time.
One of Alyssa's friends started a GoFundMe for the family to help them rebuild after the devastation. Over $100,000 has since been raised for the Burks family.
Absolutely heartbreaking. We all need to stay home not just for ourselves and our family and friends, but for those who are on the frontlines and their families.
Share this on Facebook to send a prayer or positive thought to the Burks family.