Donald Trump has been nursing the wounds dealt unto him by his election loss in relative quiet since leaving the White House on January 20.
Between the cloud of the impeachment trial and the fact that he has no social media accounts through which to reach the masses, it can be argued silence was the only course of action.
That said, the peace was never going to last for long.
At the weekend, the former POTUS took to the stage as the keynote speaker at the Conservative Political Action Conference (CPAC) in Florida. Boy, did he let the shots fly.
A natural target of Trump's speech was his political rival, Joe Biden, who he claimed had endured the worst first month of any president in modern history.
Whether or not that's true is a matter for finer contention, but Trump's approach to his first public speech since leaving the White House made one thing abundantly clear to all: he's not going anywhere.
Indeed, speculation has been rampant over the past month as to Trump's potential future in the political area.
At 74 years of age, and coming off the back of one of the most controversial four-year terms the White House has ever witnessed, he would have been well within his rights to turn his attentions to enjoying the years left to him.
Stepping out of the spotlight, though, is not part of Trump's plans.
At the aforesaid conference on Sunday, the business mogul toyed with the idea of running for president again in 2024, stating of the Democrats: "Who knows. I may decide to beat them for a third time."
Perhaps unsurprisingly, Trump's offering in Florida was littered in statements that pretty much wrote headlines themselves.
Aside from the obvious matters vying for public attention though – those concerning the rights of transgender athletes and further criticizms of Joe Biden's administration included – there was also a tit-bit that somewhat slipped under the radar.
Namely, for the first time, Trump told his supporters to go and get their vaccination shot against COVID-19. That's fairly weighted news when it's considered that Trump's followers include a number of groups that range from those sceptical towards the vaccine, to those who outright believe it is part of a ploy to enslave the population (you just have to love conspiracy theorists).
Even so, Trump instructed the audience to make sure they were vaccinated. "Everyone should go get your shot," he told them, appearing to get off the fence and land firmly on the side of those acknowledging that mass vaccination is the only way we are going to beat the COVID pandemic.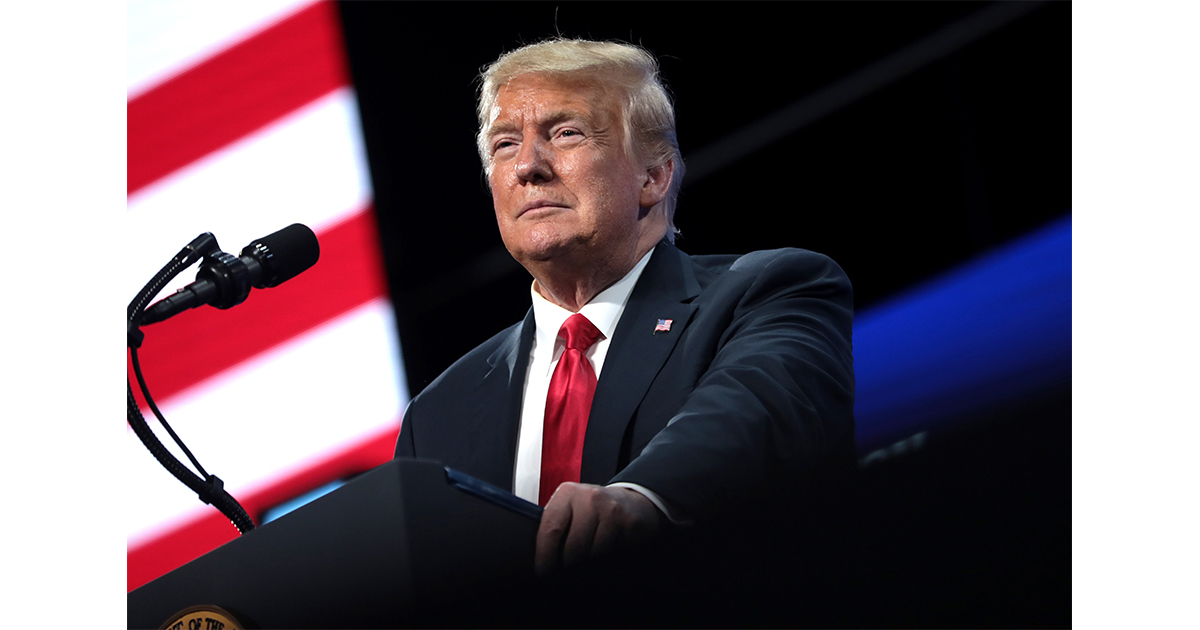 In any case, Trump's words prompted questions as to whether or not he had received a vaccination himself. You will remember that he famously contracted the COVID virus last year during the presidential election race, but reports state he and Melania are now protected.
Unlike other major political figures, including Joe Biden, Kamala Harris, and former Vice President Mike Pence, the Trumps elected not to get their shots done publicly as to encourage others.
Instead, an adviser has revealed that Donald and Melania received their vaccinations quietly in the White House before they left on January 20.
Said adviser did not give details on which vaccine the pair had taken, nor if they received both the first and second shots at the same time.
PIC
Trump also proudly told his audience at the weekend: "Never let them forget this was us. We did this." This is in contrast to a CNN report in January stating that the Trump administration left behind no vaccine distribution plan, and that Biden and his team had to begin from scratch.
What do you think about Trump's words at the conference? Would you support him if he chooses to run again in 2024?
Do let us know your thoughts in the comments box on Facebook, and share this article so we can encourage healthy debate on the matter.