Nick Reeder's life was turned upside down last Monday.
The firefighter and the love of his life, Amanda Sawyer, were ready to welcome twins to the world. The new arrivals would make a neat addition to a family that already consisted of three children.
Nick describes Amanda as his soulmate, saying: "We met on an online profile, yeah and we had a blind date and were inseparable after that date. It was love at first sight definitely."
But tragedy struck during what should have been a routine delivery. Amanda gave birth to twins Kelce and Kaia but soon after passed out. Little did Nick know that he was about to be knocked off of his axis …
Sadly, Amanda had suffered an aneurysm that ended her life after just 37 years, leaving Nick to move forward with five kids on his own.
"She passed out and then the doctors jumped in immediately," said Reeder, as per ABC.
He's spoken now about just how shocked he is at the stunning turn of events. "I can get through it. I can do it. I'm a fireman. I fix things. That's what I do. So I'm going to be able to make this happen. I'm going to make this work, but it's not going to be by myself."
Almost 400 people have already contributed more than $30,000 in donations to a GoFundMe page, while Nick's firefighting family have started a meal train to ensure Amanda's five children don't go without.
"Not surprised because I knew Amanda was loved by many but impressed how fast it's come together," said Nick.
According to the GoFundMe page, Amanda complained that she wasn't feeling well not long after birthing the two girls. She died within the hour.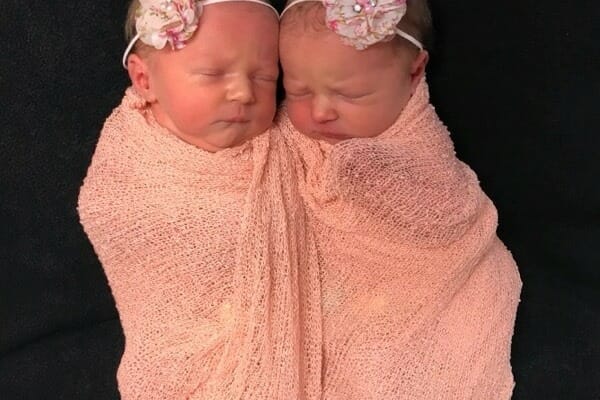 For Nick, Amanda's death is obviously a fresh wound that will take many years to heal. He's now keen to warn others over the potential dangers even healthy mothers face when going into labour.
Please share this story to spread awareness of brain aneurysms, which can remain undetected right up until the moment they rupture. Below are the warning signs of a brain aneurysm:
Neck pain
Sensitivity to light
Fainting or loss of consciousness
What a sad story. We hope Nick can stay strong and resilient in the face of such adversity, while we commend all the people who have banded together to help cushion the shock blow that comes as a result of Amanda's passing.