Watching your child in discomfort is never an easy thing to do. Parents instinctually want to remove distress from the lives of their little ones, but, sadly, sometimes it can't be avoided.
Antwon Lee is a first-time father who recently took his newborn baby, Debias King Lee, to a scheduled appointment at a paediatrician's office to receive his shots.
Antwon was nervous because he knew his son was going to have a tough time of things. He got around it by figuring a way to give the boy a small measure of comfort. Lee was so focused on his actions that he didn't realise his girlfriend was filming the entire thing; many online are thankful she did …
As per People, Lee said of the appointment: "I felt kind of scared a little bit, I knew he was going to go through some pain. I had to figure out a way to comfort him, and the day before, I talked to him and said if he needed to cry, go ahead and cry. That morning when we got there, and I let him know again it was okay to cry."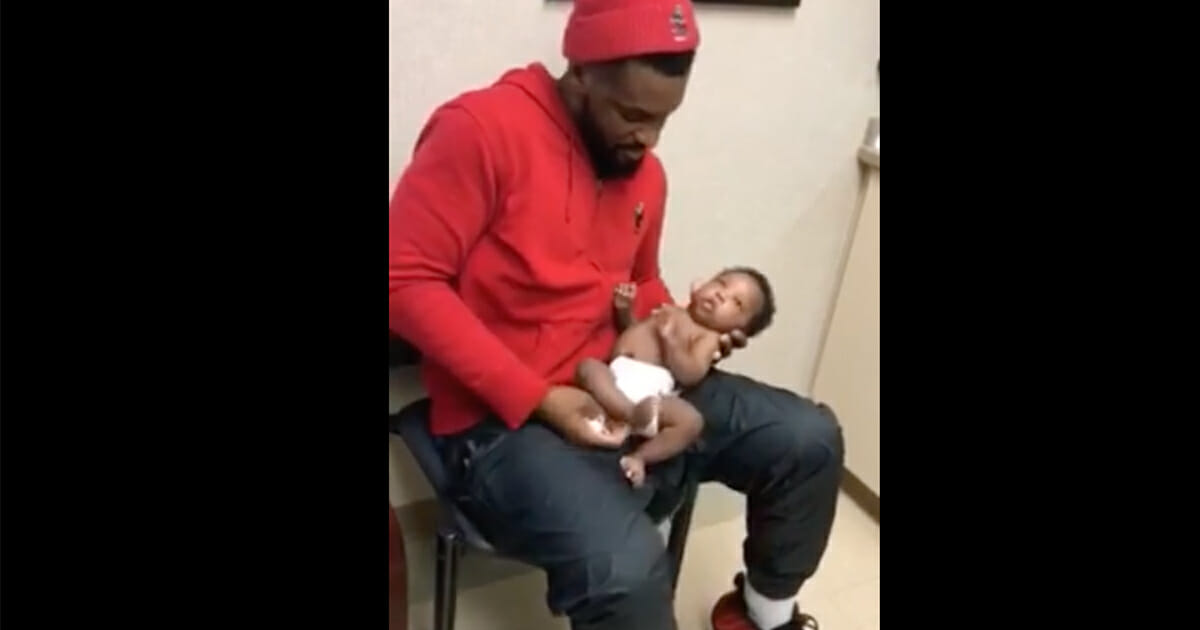 In the video in question, Lee does his best to keep his son entertained as they enter the doctor's office. The nurse then asks Lee to lay his son on the bed, and so he does, holding his hand to keep him assured that all is okay.
"I felt the pain he was going through!" Lee said. "At that moment, there was pressure, but at the same time, it was beautiful."
Lee can be heard telling his son: "I got you. I got you." Then, when Debias gives his finger a squeeze: "Oh, you strong boy."
It's easy to see why the footage (which Lee later uploaded to social media) has gone viral. It showcases the bond between father and son perfectly; a whirlwind of emotions captured in a bite-sized film that Lee will surely treasure for years to come.
You can see the video here:
What a heartwarming video it is. Debias is fortunate to have such a caring father to guide him; we're sure Antwon will apply the same tender care in all aspects of his son's life.
Please share this article on Facebook if you enjoyed the video. Let's brighten someone else's day by spreading acts of love and kindness.