Some may remember the frankly disgusting trend that swept across the US last year, where pranksters filmed themselves licking tubs of Blue Bell ice cream in stores, before placing the product back on the shelves.
It was unnecessary, unpleasant and beyond the point of gross, with many of the offenders taking part in the trend in an attempt to achieve viral fame.
D'Adrien Anderson, 24, was one of those people. In August of 2019 he posted a video onto social media showing himself opening a new tub of ice cream at a Walmart store in Port Arthur, Texas. He not only licked the ice cream before putting it back, but he stuck his fingers in it as well.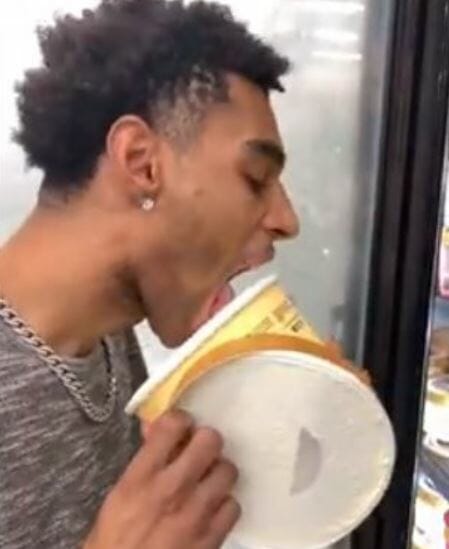 As per reports, CCTV footage from the surveillance cameras in the store showing Anderson later buying the tainted ice cream, but his video still caused uproar.
Anderson was later arrested by authorities and pleaded guilty to public mischief in January. He was sentenced in Jefferson County, Texas, on March 4.
The 24-year-old was facing a maximum penalty of one year in jail and a $4,000 fine for misdemeanour criminal mischief. He ended up being handed 30 days behind bars, while he'll also be on probation for 180 days, KFDM say.
Anderson will also have to complete 100 hours of community service as part of his punishment, as well as paying a $1,000 fine and $1,565 in restitution to Blue Bell Creameries.
Tampering with food in such a way will never be acceptable. I only hope Anderson learns his lesson though the punishment he's been given.
Share this article on Facebook if you're glad to see justice done.