A school bus driver who was planning to retire following 26 years of leal service has passed away after contracting COVID-19.
According to reports, 66-year-old Gail Brusseau has spent the past few years taking students with special needs to their classes in Clay County, Florida.
When the current pandemic hit, earlier this year, her husband, Bill, begged her to retire. For her part, however, Gail wasn't ready.
"She said, 'No, I want to go one more year,'" Bill told News4Jax. "She said, 'If you're going to go one more year, I am going to go one more year.'"
Then, one day, Gail returned home from work and said that she had changed her mind: she would retire in December after all, bringing an end to a career that has helped numerous children.
"About the third week of school, she started feeling sick. So, we both went and got tested," Bill explained.
"She tested positive. I tested negative. We went to our family doctor right away. Our family doctor did a test and that one was positive and he strongly urged her to be taken to the hospital and I took her to Orange Park (Medical)."
As has been the case for many victims of COVID-19, Gail's condition then worsened. Her FaceTime calls to Bill became texts, before one day the hospital called him to say they were moving his wife to the ICU.
Bill said: "She had to be sedated and she couldn't speak, but she could hear. So what the nurses would do is put the phone up to her ear. I would talk to her. I would sing to her. My kids went every day. I went every day and even though she was in a semi-comatose — she could hear us and that was frightening to me.
"Because I had never seen her like that."
After 31 days in intensive care, Gail was moved onto life support. Sadly, she passed away earlier this week, October 9.
Gail's co-workers on Wednesday parked her bus outside the lot at Clay County Schools Transportation and adorned it with flowers.
As per reports, Clay County School District say all the regulations and procedures have been followed, ensuring buses are cleaned after each route at the end of the day and students have to wear masks and sit in designated seats. Bill, though, doesn't believe everyone is adhering to the system.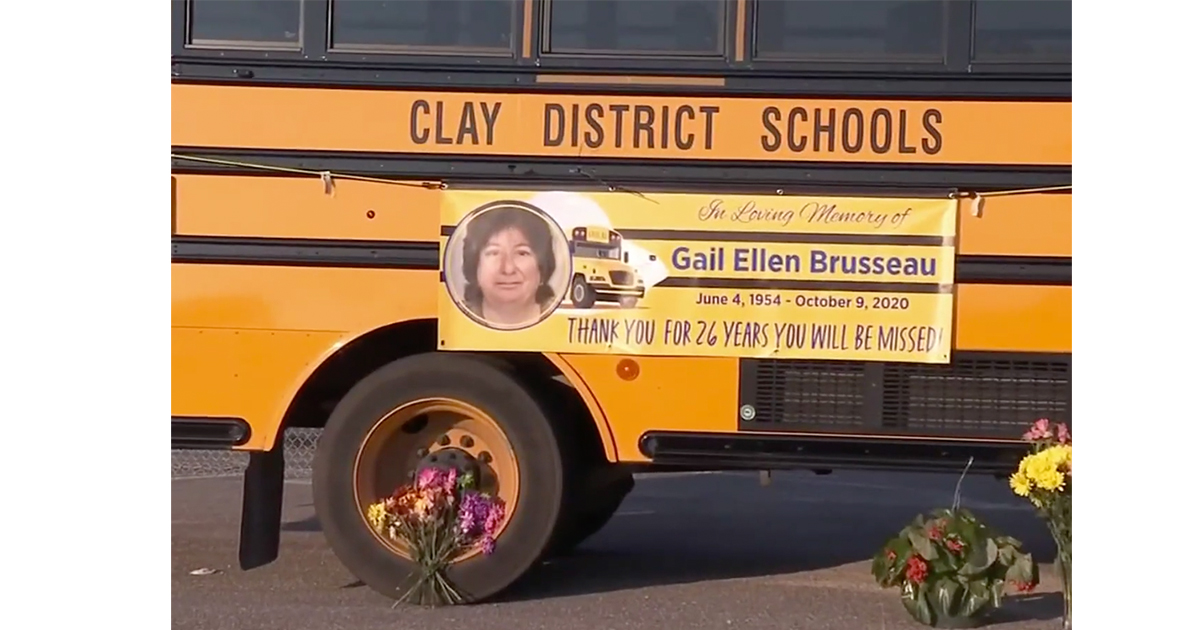 "She was taken from me because some people don't seem to understand that this COVID thing can hit anybody," he said. "We are all in this together, and we are all in this together not just to protect ourselves, but to protect each other. That didn't happen here and that's how she got it."
Latest figures suggest there have been as many as 7.95 million confirmed cases of COVID-19 in the U.S. alone. 217,000 U.S. citizens have lost their lives to the virus, with that number sure to increase before a vaccination or cure is found.
How many more good lives are we going to lose to this terrible virus? Please, people, listen to the rules and restrictions, if not to save your own life then to save someone else's.
Share this article to pay your respects to Gail Brusseau. Rest in peace, Gail, and thank you for your service.