I was taught from an early age to respect adults. That goes for those who are mentally or physically impaired, just the same as it goes for those who are able bodied and perfectly healthy. To me it doesn't matter; they deserve respect.
Today, however, there comes terrible news out of Suffolk, England. A photo is spreading like wildfire on the internet, and for good reason.
A 40-year-old woman with mental disabilities is seen in the image being abused by four teenagers…
According to reports in the British press, the four teens threw and eggs over the mentally handicapped woman. They then posed for photos behind her as she slumped on a park bench in Bury St Edmund, Suffolk.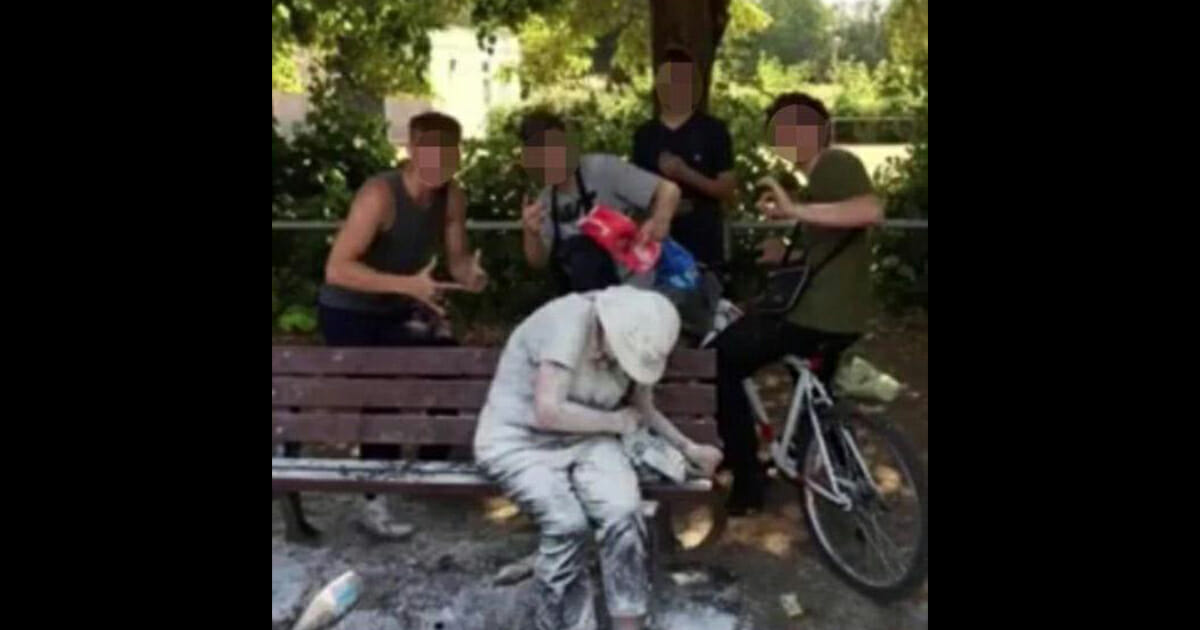 The woman in the photo is approximately 40-years-old, and suffers from a mental disability.
According to a witness – as reported by the Daily Mail – the woman had a 'breakdown' at the park and started to shout at the boys, who proceeded to shower her with water, flour and eggs.
Suffolk police said she was left severely distressed but was not physically harmed during the ordeal, which took place at 5.30pm on Friday.
Social media post
One of the teenagers, in his infinite wisdom, decided to post the photo in question to social media platform Snapchat.
However, instead of basking in adulation, his upload was met with widespread backlash and earned him a subsequent visit from the police.
Reports claim that four teens between the ages of 15 and 17 have since been detained. The person who took the image, however, has not yet been identified.
Totally unacceptable
Inspector Anthony Bridgland said: "This type of behaviour is totally unacceptable and we are treating the matter seriously.
"We know this incident may have caused concern and anger both in the local community and online, but we would like to reassure everyone that we are tackling the matter robustly and supporting the victim."
Just seeing this photo made my blood boil, and I know I'm far from the only one to react as such. I hope that these teens will have to bear firm consequences as a result of their inexcusable behavior.
Please share this post on Facebook to make everyone aware. Let's take a stand against bullies everywhere and end this sort of thing once and for all!