A Massachusetts widow recently received a surprise in the mail that made her holidays a little brighter.
After a 76-year delay, a letter her late husband wrote to his mother while he was stationed overseas during WWII was finally delivered.
"I love it. I love it. When I think it's all his words, I can't believe it. It's wonderful. And I feel like I have him here with me, you know?"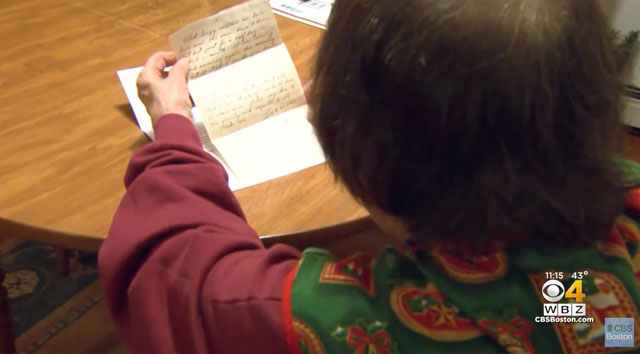 After the official end of WWII, Army Sgt. John Gonsalves, 22, wrote to his mother in Woburn, Massachusetts.
He dated the letter December 6, 1945.
"Dear, Mom. Received another letter from you today and was happy to hear that everything is okay," the letter reads. "As for myself, I'm fine and getting along okay. But as far as the food it's pretty lousy most of the time."
But the letter never made it from Germany, where John was stationed, to Massachusetts.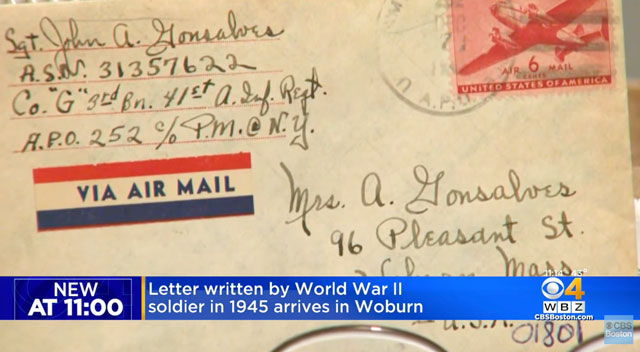 Instead, it got stuck within the United States Postal Service. And it wasn't until this past year that a post office in Pittsburgh discovered it.
WBZ-TV reported that employees of the facility conducted their own research once they found the 76-year-old letter, then sent it on its way.
Angelina Gonsalves received the letter just in time for the holidays.
Although it wasn't addressed to her, she still felt her husband's spirit with her.
John died in 2015.
"I loved him dearly and he was quite a guy. I still feel his presence, I really do," she said.
Included with the letter was a note from USPS saying how "delivering this letter was of utmost importance to us."
How kind it was of these USPS employees to locate John's family and forward his letter to them.
Please share this heartwarming story with all your family and friends.