Erick Tiegs, who was one of more than 60 who were injured at the Waukesha Christmas Parade, has been released from the hospital.
The 16-year-old was marching with his high school marching band when a driver plowed through the Christmas parade striking dozens participants.
So far six people have died, and more than 60 were injured.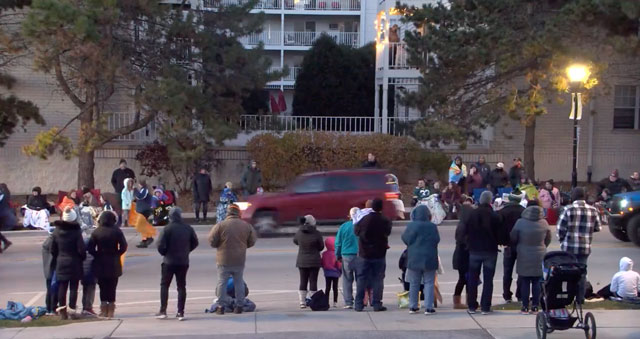 Erick was marching in the parade, playing a trombone, when the suspect drove through the parade. The suspect's vehicle struck three of Erick's bandmates before hitting him.
The teen's younger brother who is also in the marching band was present, but was not hit.
"I had a friend call me, who was at the parade, asking me if any of my boys were in the marching band and I said 'Yeah,'" Donald Tiegs told WISN. "They told me to call my wife because there was an accident."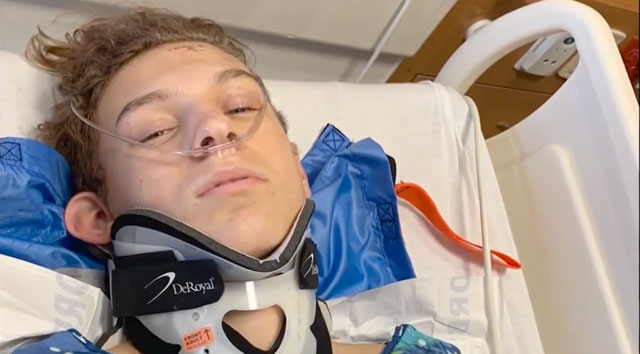 Donald, a firefighter in Caledonia, immediately began to wonder about his son.
Erick suffered a C4 spinal fracture, a fractured skull, a concussion, five broken ribs, a broken shoulder and a fractured femur.
His serious injuries landed him in the hospital, but after a week he was able to return home.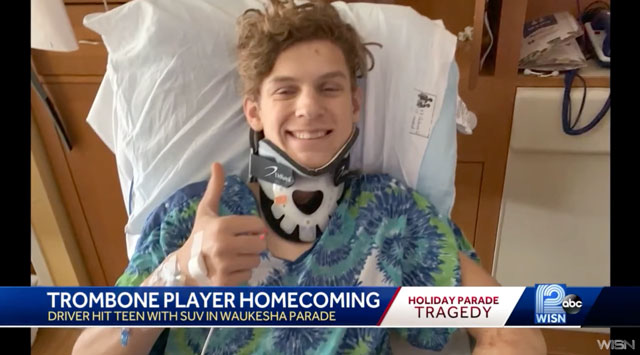 "It's a really good feeling, it was an exciting day. There were tears, but happy tears today," Donald said about his son returning home.
"He actually walked 12-feet today with the walker."
Prior to his arrival, a group of volunteers built a ramp to make it easier for Erick to get inside his family's home.
The teen was welcomed home on Tuesday by the Caledonia Fire Department.
He still has a long road ahead of him in terms of both physical and mental recovery. But everyone remains hopeful.
Six children remain at Children's Wisconsin where Erick was hospitalized.