If you were at the end of your life do you know what your final wish would be?
Would it be a visit to the beach or maybe something more obscure and personal that could only be carried out after your death.
Clara Burnett, 83, knew exactly what she wanted as her final wish. And it was up to Tracy Bunch, the wish coordinator at Harbor Hospice in Kansas City, Missouri, to make her dream become a reality.
Burnett wanted a tattoo!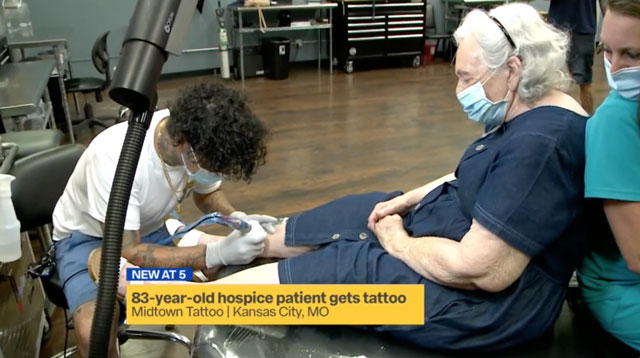 For Burnett it wasn't a spur of the moment decision. She had wanted a tattoo, her second as a matter of fact, for 15 years.
"My husband had a fit when I got Tweety so I didn't get Sylvester," she said.
More than a decade ago she and her friend decided to get tattoos, and she went with one of Tweety on her left leg. Her husband wasn't thrilled with it which led her to put off getting a tattoo of Tweety's rival, Sylvester.
But now that her husband has died and she is terminally ill, she couldn't wait any longer.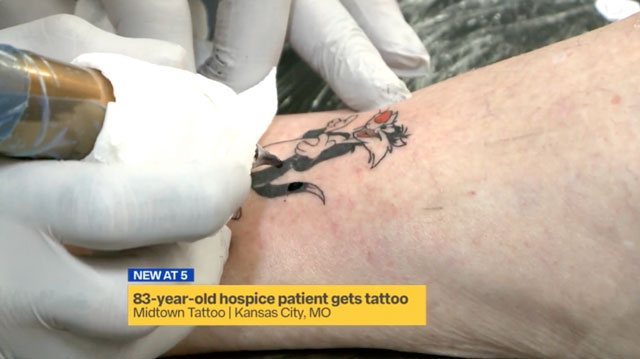 Bunch, who has helped grant all kinds of wishes from attending concerts to taking patients to see their family home for the last time, worked her magic and arranged for Burnett to get her Sylvester tattoo.
This time around Burnett wasn't letting anyone rain on her parade.
"I don't know. Don't care," she laughed when asked what her friends would think. "I think it's gorgeous."
You tell them, Clara!
It may have been years after she originally wanted her second tattoo, but I'm glad Clara finally got the matching tattoo she always wanted.
Share this story on Facebook.