Jaiden Rogers has an extremely rare condition, so rare that it has been reported less than 50 times.
Jaiden, 15, has stiff skin syndrome, and there's no known treatment, but an experimental treatment could help save his life.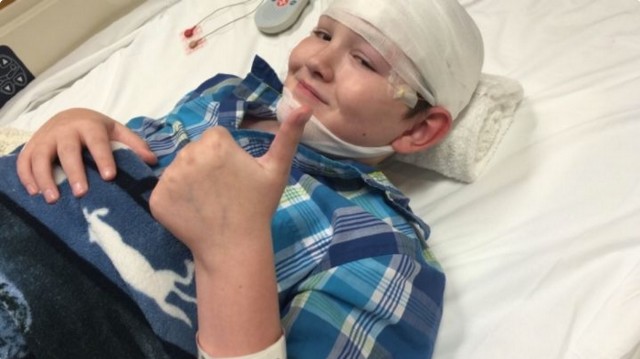 In 2013, when Jaiden was around eight years old, his parents, Tim and Natalie Rogers, noticed his skin began to change.
"It's almost like if you took your finger and tapped on his arm, it's almost like tapping on a counter top, on a hard surface. That's what it feels like," Tim told KDVR in 2016.
The spots spread, eventually making it impossible for him to walk.
Once they found a doctor who was able to give them a diagnosis they felt a bit of relief.
"When they said it was stiff skin syndrome – I was like oh good it's only that," Natalie told ABC15. "But the doctor said, 'oh no I don't think you understand.' They said his skin would turn to stone. Within a month, he was in a wheelchair. It spread so fast. Within just a few months, he was starting to get it everywhere."
There's no cure for this syndrome.
Every day is a battle for Jaiden, who is being treated at Children's Hospital in Aurora, Colorado.
He's been undergoing chemotherapy, which is typically used for cancer, but it seems to be slowing the spread.
However, since his parents first noticed that first spot it has spread to his hips, stomach, and neck. At times it's extremely difficult for him to breathe.
And that's why his family is hoping that an experimental treatment will help save him.
Although a treatment won't restore Jaiden's hardened skin, the damage has already been done, perhaps it will slow the spread and help pave the way for those who come after Jaiden that are diagnosed with stiff skin syndrome.
Right now his family is asking the public for help in raising the necessary $1.5 million to pay for the treatment and medical flight to Europe, where the treatment would take place.
So far the family has been able to raise over $375,000.
"The whole treatment is $1.5 million, because they actually have to make something for him, because he is the only child. It's our only hope, and we are running out of time."
Can you help? It's horrible to think someone suffering from such a rare disease has to pay so much money in order to try a treatment that may save their life.
Share this story on Facebook to help Jaiden and his family raise money for his treatment.