As technology moves forward with great speed, seemingly making our lives easier by the minute, clever things from the past become more and more obsolete. This seems to apply in almost every area of our lives — from how we listen to music to how we get from point A to point B. Yes, everything is changing.
This leaves certain 'technology' of the past just a vague memory, with future generations completely unable to guess what some of those things we cherished back in the day were. Like these little 'coins'…
But do you know what these were for?
If you're over a certain age and reading this, then you might know what these are. Yes, they are 'needle threaders', which were a staple in any household.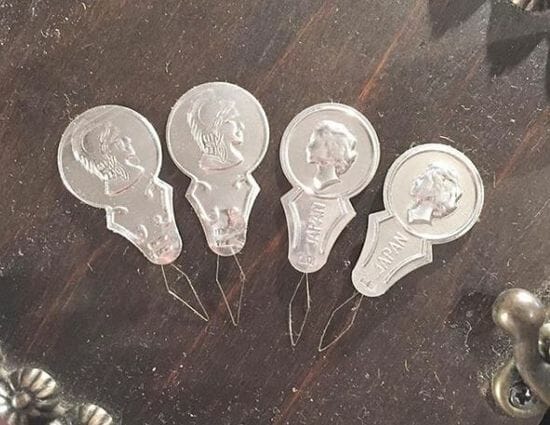 Remember when little girls were taught to sew? These little guys were very helpful for helping to get the thread into the eye of a needle.
Every sewing kit had one of these, alongside a needle, tape measure, scissors, pins, and a pincushion.
I can remember my mom teaching me to use these, although I can't say I was ever that efficient with them. Were you?
Here's a little more trivia… Can you remember what these are? Leave your comments on Facebook if you can identify what they are… I recognized them right away as well. Oh oh — does that mean I'm old? 🙂
Share this article with your friends, and see if they remember these practical sewing tools, too!