What's more relaxing than lounging on a pool float? Absolutely nothing.
Declan O'Connor was visiting a North Carolina beach, relaxing on a unicorn float when all of a sudden he found himself getting swept out to sea.
"I was really scared and thinking like I might die and all that stuff," Declan told ABC News.
Now the 8-year-old and his rescuers have a message for those who use pool floats in the ocean.
Declan was visiting North Carolina with his parents, Don and Jill O'Connor, when the freak accident took place.
"My son is floating out in the middle of the ocean on a floaty thing," Jill told a dispatcher. "He doesn't have a life jacket on. He doesn't, he doesn't really know how to swim."
His father, Don, attempted to rescue their son as soon as they realized the float was drifting out to sea, but they couldn't keep up. It's estimated he floated "1/4-1/2 mile off the beach."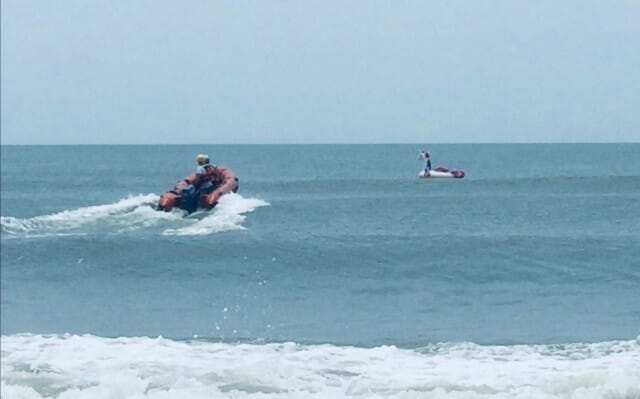 Oak Island Water Rescue, a group of volunteers, were the first on the scene.
"The float was right there, in easy reach, and then just in the blink of an eye, it was beyond the breakers and too far for them to reach," said Oak Island Water Rescue Chief Tony Young.
Luckily the the water rescue team was able to deliver Declan back to his parents.
"Handing that little kid back to his mom after we brought him in from way out in the ocean on that float was payment enough for all of us," Young said. "I'm sure I speak for the whole team when it comes to that."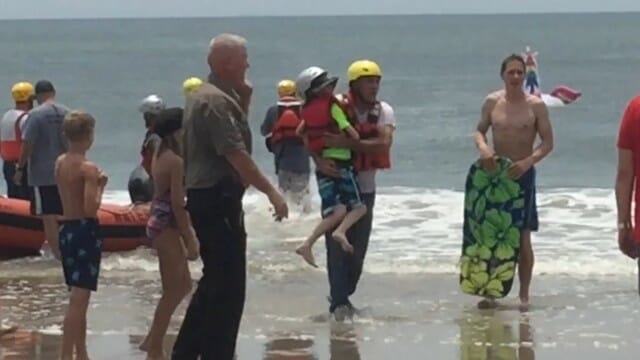 After the ordeal Declan said he learned a lesson, "Now I know never go out on a float ever again in the ocean."
But Oak Island Water Rescue says you don't have to take such drastic measures, as long as you take the necessary precautions.
"These floats are very popular, we advise everybody to anchor them somehow, or have a parent hold on to a line," Young said.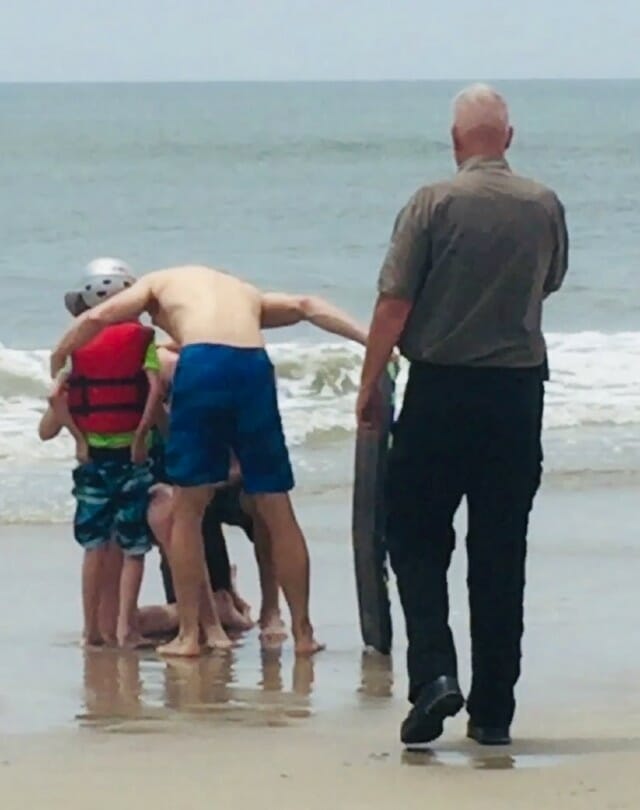 According to witness accounts, everyone did exactly what they were supposed to do and yet Declan still needed rescuing.
Sometimes you can't predict these accidents, and in those cases you need to act accordingly. Don't be afraid to call 911 for help.
Pass this post on to warn other about how they can stay safe while using a pool float.