Antonio Banderas is perhaps one of the most well know Spanish actors of his generation. The actor has been in Hollywood for decades and has played some iconic roles.
He was famously linked to actress Melanie Griffith. But ever since his divorce, he has been spotted with a new woman and seems happier than ever…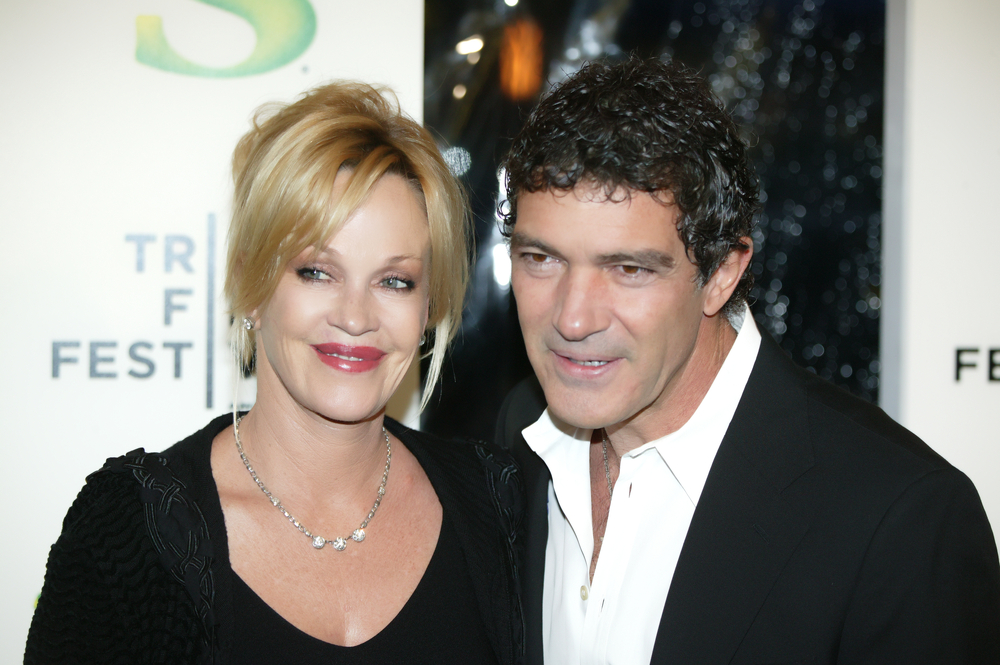 The 62-year-old actor has a lot of fans and women who are crazy about him but there is only one woman for him; his girlfriend Nicole Kimpel. Banderas was previously married to Melanie Griffith for almost 20 years. But after his divorce, he found love once again.
While details about his new relationship are scarce, there is some information nonetheless. The actor is dating someone who is far removed from Hollywood; a person who works in finance!
The actor himself was born in the south of Spain, in Malaga. He initially dreamed of playing soccer professionally but his dreams came to a screeching halt when he injured himself which rendered him unable to play the sport professionally. This is when the actor turned to acting and slowly but surely fell in love with the craft.
His girlfriend Nicole, who is twenty years younger than the actor had a very different lifestyle. She was born in Germany and because of her father's profession would move around a lot. But her nomadic childhood led her to learn several languages including French, German, English, Dutch, Italian, Arabic, and Spanish, and gave her cultural insight into various cultures around the world – something not many people have.
The actor met Nicole at a party he attended during the Cannes Film Festival. At the time the actor was still married to Melanie Griffith but he definitely felt a spark with Nicole.
He later opened up about the first time the couple met and what a comical situation it was. A woman named Barbara caught Antonio's eye and he made his way over to speak to her. Little did he know Barbara had a twin sister named Nicole.
He later said about the meeting, "but suddenly Nicole appeared, and my heart skipped a beat. They are exactly alike, but I saw something that stood out in her, that made me click with Nicole."
READ MORE
But since he was still married at the time, Antonio only treated it as a friendly encounter and nothing more.
Once his divorce from Melanie was finalized in 2015, Nicole and he resumed contact and began officially dating one another. Once the relationship was made official, Banderas did something that shocked fans; announce his indefinite absence from Hollywood.
The actor made the surprising choice to move to London with his new girlfriend and both of them embarked on a fashion design course. The couple finished the course and then started their successful project together; Antonio Banderas Design. Both of them brought a keen perspective to the table. Their brand was an instant success.
While things seemed to be going well for the couple, suddenly they took a turn for the worse. In early 2019, Antonio Banderas faced some health issues which raised alarm. The actor had a heart attack but thanks to the quick thinking of his girlfriend, his life was saved. He recalled, "When I started having symptoms, she knew what was happening. She put an aspirin under my tongue, and that saved my life. I got a second chance, and some things have changed in my life since then."
The health scare put things into broader perspective for the couple and they decided to make sure to pay attention to things in life that were more important to them.
"The things that I gave a lot of importance to stopped being important. I switched to paying attention to the real things. My daughter is the real thing, my friends, my family," Banderas said.
The couple who switched between several countries with no main place of residence decided to move back to Antonio's hometown, a place he is incredibly proud of.
As for Nicole, she said she fit right in too. She said,  "I miss my family because I don't spend as much time with them as before, but my place is next to Antonio, and that makes up for everything else. I am very happy in Malaga, the city has welcomed me with open arms, and I feel like a real Malagueña".
The Spaniard has shown his new girlfriend his country in all its glory. As for their plans for marriage, it seems like they are in no rush at all. The actor considers themselves married already. He said, "I'm kind of married. Nicole is my wife, and I'm her man. We're doing great."