Donald Trump was flown to hospital after testing positive for the coronavirus in October 2020.
The diagnosis came just a month before facing Joe Biden in the 2020 presidential election. Donald Trump was airlifted to Walter Reed National Military Medical Center in Bethesda, Maryland, to get treatment for symptoms of the coronavirus disease in early October 2020.
Trump was at first treated with an experimental drug cocktail injection and the antiviral medication Remdesivir, according to the New York Times. First Lady Melania Trump also tested positive for COVID-19.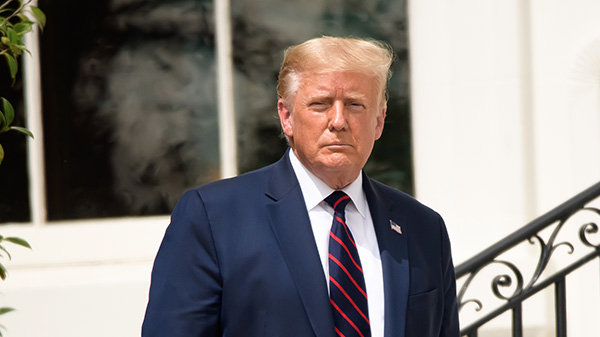 Several conflicting statements were put out over the seriousness of Trump's well-being.
The president's physician, Dr. Sean Conley, at first said that Trump wasn't receiving oxygen, however just a day later, he contradicted his earlier statement and confirmed Trump was given oxygen.
"Late Friday morning when I returned to the bedside, President had a high fever and his oxygen saturation was transiently dipping below 94%," Dr Conley said, providing details he had concealed the previous day. "Given these two developments I was concerned for possible rapid progression of the illness. I recommended the president we try some supplemental oxygen. See how he'd respond. He was fairly adamant that he didn't need it."
On October 6 – following a three-night stay at Walter Reed National Military Medical Center – Trump returned to the White House to continue his treatment.
The first morning after his arrival at the White House, Trump compared the coronavirus to the flu.
"You're going to beat it [coronavirus]," Trump told his supporters upon arriving at the White House. "As your leader, I had to do that. I knew there's danger to it, but I had to do it. I stood out front, and led."
Donald Trump made it through, however many American's haven't. The US remains to be the country that's been worst-hit by the COVID-19 pandemic.
More than 26 million cases have been reported with 464,000 deaths confirmed as of February 11, 2021, according to the World Health Organization (WHO).
Although Trump returned to the White House following his coronavirus-treatment, CNN reported that the former president's well being wasn't as good as first reported.
As first reported by the New York Times, Thursday, Donald Trump's condition was worse than officials were willing to acknowledge to the public.
Citing four people familiar with the former president's condition, Trump experienced "extremely depressed blood oxygen levels." He was also found to have lung infiltrates, which can be a sign of serious illness in corona-positive patients.
CNN sources say that Donald Trump became so concerned at the time, that there was talk of putting him on a ventilator, a person close to Trump said.
Lung infiltrates occur when "the lungs are inflamed and contain substances such as fluid or bacteria. Their presence, especially when a patient is exhibiting other symptoms, can be a sign of an acute case of the disease. They can be easily spotted on an X-ray or scan, when parts of the lungs appear opaque, or white," according to CNN.
What do you make of all this? Please give us your opinions in the comment box on Facebook!
Meanwhile, share this article on Facebook with friends and family.