On Wednesday four people were injured when a student opened fire at Timberview High School in Arlington, Texas.
The student, Timothy George Simpkins, turned himself in later that day after fleeing the scene. He was charged with three counts of aggravated assault with a deadly weapon, according to reports.
On Thursday he was released from jail on bond.
Following the suspect's arrest, his family has spoken out. And while they don't condone his actions, they claim he had a reason to react the way he did.
"The decision he made, taking the gun, we are not justifying that. That was not right. But he was trying to protect himself. We hope the police department does the investigation properly," Carol Harrison Lafayette, a family spokesperson, said.
According to The Dallas Morning News, the 18-year-old's cousin, Cint Wheat, wrote on Facebook that his cousin had been bullied at school.
Later, Lafayette, claimed that Simpkins was robbed before the school shooting.
"He was robbed," she said. "It was recorded. It happened not just once, it happened twice. He was scared, he was afraid."
"There is no justification of anybody … being hurt," she said. "We have to take a look at the fact that bullying is real. And it takes us all. And I do apologize. We ask as a family for forgiveness of any type of hurt."
They also claimed the school has documented proof that the teen had been previously bullied.
A full investigation is being conducted.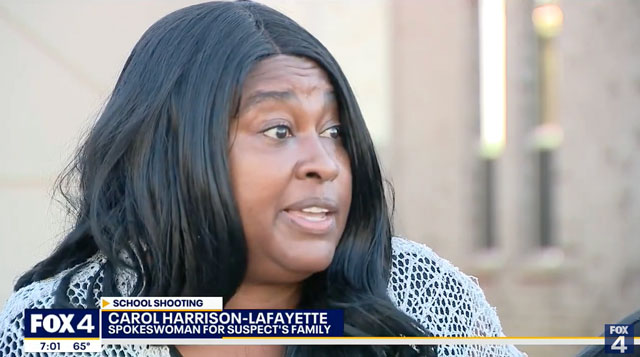 Reports indicate a fight did break out prior to the shooting, but it in unclear what it was about.
Two videos have been circulating on social media, but police have yet to confirm the identities of the people in it. They have confirmed the fight was likely linked to the shooting.
"They are being looked at as part of the investigation," Arlington Police Department public information officer Tim Ciesco said, according to NBC DFW.
Four people were injured in the shooting, two students and two faculty members.
The Fort Worth Star-Telegram reported that a 15-year-old student underwent surgery and was in critical condition. A 25-year-old teacher and a female student, who was grazed by a bullet, were also injured.
A pregnant woman fell during the shooting and suffered minor injuries, though she declined medical treatment.
While I do not condone bullying, I absolutely do not condone bringing a gun to school. If bullying did occur that needs to be addressed, but right now we must focus our attention on the injured.
Please share if you are against all violence.