Kyle Rittenhouse was found not guilty of all charges against him Friday.
The 18-year-old, who claimed self-defense, originally faced six charges, however Judge Bruce Schroeder dismissed a gun possession charge hours before the jury began its deliberations.
The jury, which consisted of seven women and five men, deliberated for three days. On Friday, they agreed with the defense team. Rittenhouse, who was 17 at the time of the crime, was acting in self-defense.
As the verdict was read, Rittenhouse broke down and collapsed before he was helped up. He then embraced his defense attorney.
Rittenhouse was on trial after he traveled across state lines on August 25, 2020 to reportedly protect the city of Kenosha, Wisconsin after several days of civil unrest following the officer-involved shooting of Jacob Blake.
The then 17-year-old said he traveled to Kenosha with an AR-15 style rifle to protect property and serve as an EMT, which he was not.
Rittenhouse killed Joseph Rosenbaum, 36, and Anthony Huber, 26, both protestors. He wounded Gaige Grosskreutz, 27.
Grosskreutz, a paramedic, testified that he ran towards the sound of gunshots.
"I thought that the defendant was an active shooter," he said, according to NPR. "Anytime you bring a firearm into that equation, the stakes are much higher for both serious injury and death."
That's when Huber struck Rittenhouse with a skateboard, and then Rittenhouse shot and killed Huber.
Grosskreutz, who was carrying a handgun with an expired conceal-carry permit, drew his weapon in one hand and his cell phone in the other.
Although he had no plans to use his gun, he was "ready."
Video evidence, which the prosecution and defense relied on, showed Grosskreutz raising his gun in the air.
During the trial that captured that country's attention, Rittenhouse testified claiming, "I didn't do anything wrong. I defended myself."
The teen broke down and Judge Schroeder had to call a recess.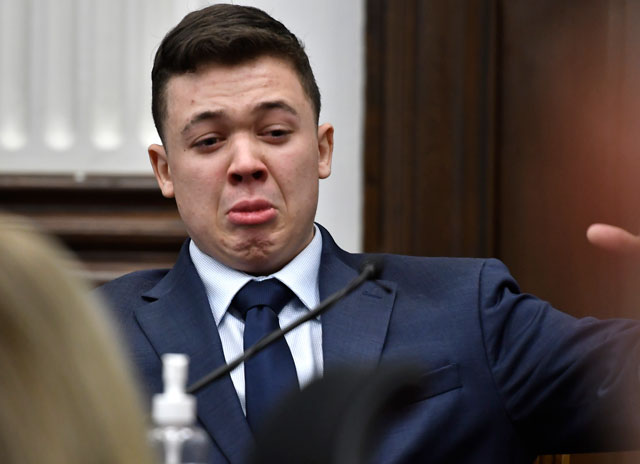 Before the jury began their deliberations the prosecution asked them to think about Rittenhouse's "true motivations" for being in Kenosha.
"Did he sincerely care about [private property]? Was he genuinely interested in helping people? He ran around with an AR-15 all night and lied about being an EMT. He's not there to support Black Lives Matter or Jacob Blake. Why was he there?" Kenosha County Circuit Court Assistant District Attorney Thomas Binger said during his closing arguments according to BuzzFeed News.
On Tuesday, the judge let Rittenhouse pick at random the 12 jurors who would decide his fate. Several days later they returned with a verdict.
Kyle Rittenhouse was acquitted on all charges.
Do you agree with the jury?
Let us know your thoughts, and then share this post on Facebook to keep the conversation going.