It should have been an event solely to honor the life of Prince Philip who passed away on April 9 aged 99 – but instead the spotlight was again on Prince Harry and Meghan Markle and their potential return to the U.K.
The nation went into mourning after the sad news of Prince Philip's passing; he died two months before his 100th birthday.
Although he's suffered with ill health for some time and had retired from royal duties in 2017, his death was unexpected.
A month before his death Meghan and Harry had given a bombshell interview with Oprah alleging racism within the palace and a lack of support when Meghan experienced mental health issues while pregnant with Archie.
She also alleged that it was Catherine that made her cry and not the other way around as the media had reported, and that Archie was refused a title. Harry also complained that he and his family didn't received the security they needed and that his father Prince Charles 'cut him off'.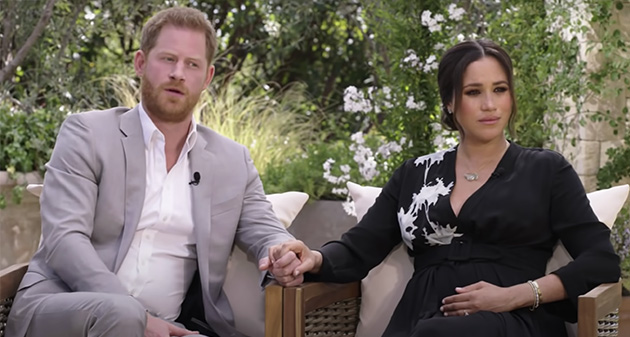 The allegations sent shockwaves around the world, forcing the Royal family to hold crisis talks and Harry's brother Prince William to break royal protocol addressing reporters directly to insist his family wasn't racist.
All eyes were on the usual very private Royal family and speculation over future relations between Harry and his brother was rife.
But when the sad news broke that Prince Philip had died there were hopes that the brothers could put their differences aside for the day to honor their grandfather, a man who had supported them through the harrowing time of losing their mother Princess Diana in 1997.
It was Prince Philip who had walked beside the young princes as they followed their mother's coffin in the procession.
In honoring his late grandfather Prince William talked of the kindness he had shown his wife Catherine when she married into the Royal family and was considered an outsider.
He understood how she felt having been treated like an outsider himself when he married the Queen in 1947 as struggled to find a new role after he was forced to quit a promising career with the Royal Navy to support the Queen.
"I will always be grateful that my wife had so many years to get to know my grandfather and for the kindness he showed her," Prince William's heartfelt tribute read.
Speculation on whether both Harry and Meghan would return for the Duke of Edinburgh's funeral and how they would be received was quickly quashed when it was announced that a heavily pregnant Meghan had been advised not to travel.
Harry traveled alone back to the U.K. from his home in California and immediately went into isolation as per current U.K. COVID rules.
It was reported that Harry met with his grandmother Queen Elizabeth on at least two occasions during his trip back.
But now it's emerged that Meghan and son Archie also spoke with the Queen ahead of Prince Philip's funeral, according to the Mirror newspaper citing a royal source.
"Meghan and Archie also spoke with the Queen earlier this week," the source said.
The Duke of Sussex flew home to California to be with Meghan and Archie on the Queen's 95th birthday.
Meghan spoke to Harry every day while he was away, as reported by PEOPLE, including before the funeral.
The source said: "[Harry] didn't want to leave Meghan and Archie alone. Meghan has insisted to him every day though that they are fine. She hasn't wanted him to worry."
The Duke of Edinburgh was laid to rest in St George's Chapel on Saturday following a scaled-down funeral which saw only 30 people allowed to attend and the Queen forced to sit alone, as per current COVID rules.
Despite not being there in person, Meghan gave Harry a handwritten note to place on her late father-in-law's wreath.
On the day of their grandfather's funeral all eyes were on the two brothers as their body language and conversation was scrutinized in an attempt to gauge the mood between the two.
Despite the two brothers being separated by their cousin Peter Phillips at one point he took a step back so the brothers could walk side by side.
Royal sources said the brothers had been told to 'bury the hatchet' for the day but the two seemed unable to make eye contact.
It has been claimed that during Harry's visit he and his brother spent two hours talking with their father Prince Charles but still haven't resolved all issues, despite Harry returning to California.
One palace insider told the Mirror that the heir to the throne was hoping to see his son again but Harry told him he wasn't staying.
It seems Harry is too uncomfortable to spend time with his family; leaving on his grandmother's birthday speaks volumes.
There are clearly issues there that we will never know about; I just hope that over time these wounds will heal as life is too short to be angry with your own flesh and blood.
Please share.