Talk about being in the right place at the right time.
Petty Officer Devyn Drake was returning home after an overnight shift when she spotted a carseat in the parking lot of her apartment complex. Upon further inspection she realized there was a baby in it.
That baby was Vanessa Dasilva, who had been abducted just a short time before.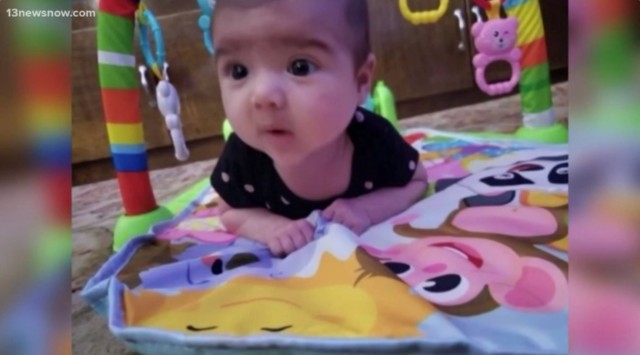 "I thought it was just furniture left outside," Drake told 13News Now. "But when I got closer, I saw a little head peeping through the blanket hole and I saw it was a baby. I couldn't believe it."
Drake had just left her overnight shift at Norfolk Naval Station and was unaware that a baby was missing.
According to reports, Vanessa's mother had left her in an unlocked SUV around 6:20 am at a Wawa in Chesapeake, Virginia. Someone got into the vehicle and stole the SUV along with the 3-month-old.
Drake came across Vanessa around 6:50 am.
"It was perfect timing because of the distance between Chesapeake and Norfolk that I arrived just in time that the baby wasn't left out in the cold for too long, because it was starting to snow," she said.
However, an Amber Alert was still issued because the Virginia State Police's hotline was down at the time the Chesapeake Police were trying to report Vanessa as missing.
Thankfully, a situation that could have ended terribly ended on a positive note.
Although Vanessa did not appear to be injured she was taken to the hospital as a precaution.
"I'm grateful to have had the opportunity to help save that baby and to make sure she wasn't harmed in any way and get her back to her mom."
Vanessa is now back at home with her mom, who has said she has learned her lesson the hard way and will never let it happen again.
Thank you Devyn! You helped save a life.
Share this to thank Petty Officer Devyn Drake for being alert and rescuing baby Vanessa.