As 17-year-old Feuzi Zabaat walked down the streets of Fatih, Turkey, he had no intentions of becoming a hero. But he happened to be in the right place at the right time.
While Feuzi was walking down the street he spotted, a little girl playing near a window of a two-story apartment. The girl, two-year-old Doha, had wandered away from her mother as she cooked and she was dangerously close to the window.
Feuzi stood below the second story window as a precaution.
CCTV captured what happened next.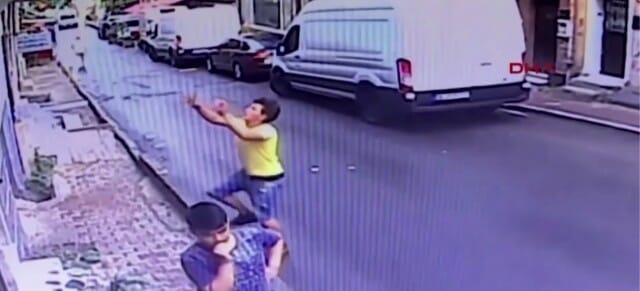 Almost as soon as Feuzi paused underneath the window, Doha tumbled to the street.
With outstretched arms, the teen caught Doha before she hit the ground, saving her from serious injury and possibly death.
"I was just walking in the road when I saw the little girl at the window. She fell, and thanks to God, I caught her before she hit the ground," he said, according to the Saudi Gazette.
Feuzi brought the little girl back inside where Doha's family thanked the teen and rewarded him with 200 Turkish Lira, about $35.
What a save!
Feuzi was meant to be in that exact spot at that exact time.
Let's thank him for saving Doha's life!