A 17-year-old girl is dead after she stepped on a downed power line in Hernando County, Florida after strong storms swept through the area.
According to Florida Highway Patrol, the 17-year-old was driving in Spring Hill around 12:15 pm when her vehicle struck a power line that had been taken down by a fallen tree.
The vehicle caught fire on the driver's side, so she exited the vehicle on the passenger's side, but as she exited her car she stepped on a live wire.
She was electrocuted and died at the scene.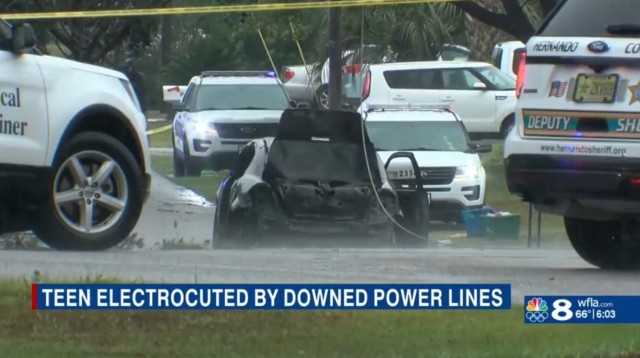 "17 years old – it's not fair," George Hubbs, a neighbor, told WFLA.
The 17-year-old, whose name has not been released, was reportedly in the ROTC and an only child.
If you ever find yourself in a similar situation, always assume that any downed power line is active.
If you are able, stay put and call for help; however, if there is a secondary emergency that requires you to leave your vehicle make sure you are able to jump out of your car without touching your vehicle and the ground at the same time.
Jump with your feet together, and once you land either shuffle or hop at least 20 feet away from the downed power line.
My heart goes out to this teen's family. She was just trying to escape the danger.
Share this on Facebook so we can spread the word on the dangers of downed power lines and say a prayer for this young woman.