The wedding between Prince Harry and Meghan Markle was one of the biggest events of the year, with a number of high-profile stories having done the rounds in the wake of the big day.
One of the most widely known – and one that circulated before the wedding day itself – is the fact that Markle wasn't walked down the aisle by her father, as in custom. Instead, it was Prince Charles who 'gave her away', with her father, Thomas Markle, not present in Windsor to see his daughter exchange vows.
The reason? He suffered a heart attack in the wake of allegations that had surfaced suggesting he had staged photographs with the paparazzi. As per CNN, the 73-year-old has now revealed his thoughts on the wedding, and his relationship with Meghan and his new son-in-law Harry, in an interview with ITV's Good Morning Britain…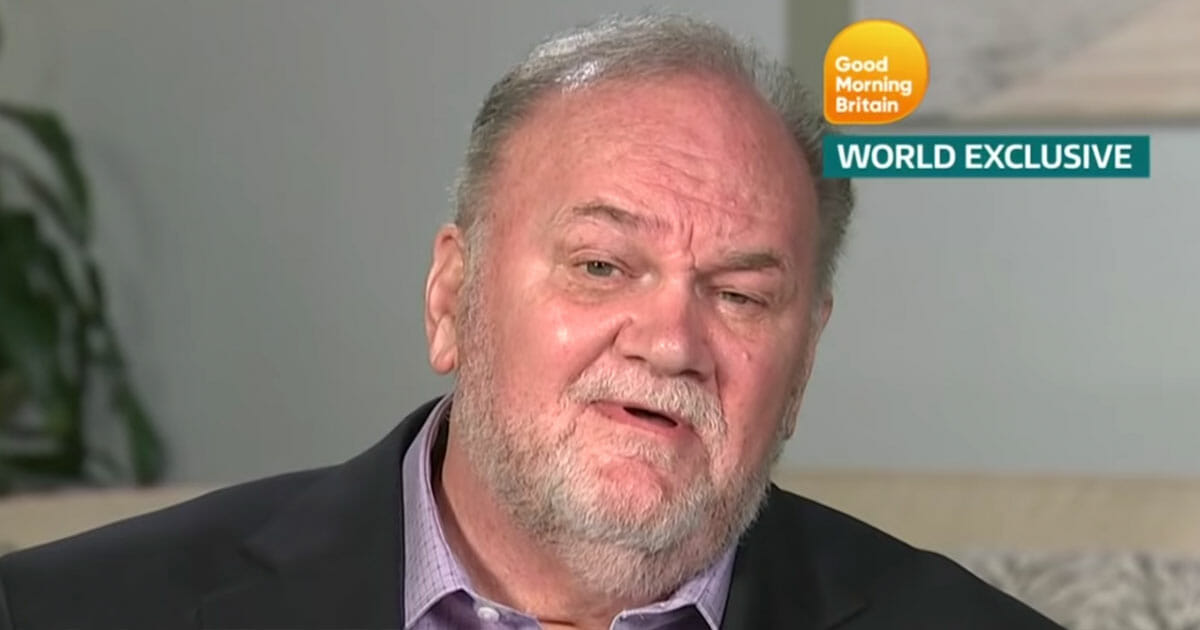 Thomas Markle made headlines around the world when it became apparent that he wouldn't be walking Meghan down the aisle on the biggest days of her life.
The former television lighting director was caught up in a scandal involving paparazzi photographs in the build-up to the royal wedding, and then made it clear he would be remaining in the US to focus on his health, having reportedly suffered a heart attack.
He's now shed light on how he informed his daughter of his decision, revealing it wasn't the choice he wanted to make.
As per CNN, he said: "Meghan cried, I'm sure, and they both said 'Take care of yourself, we are really worried about you.'
"I absolutely wanted to walk my daughter down the aisle."
Of the photos, he said: "I realized it was a serious mistake. It's hard to take it back."
Exclusive: Meghan Markle was "hysterical" over her dad Thomas Markle's photo-staging scandal, but she's also "devastated" that he can't attend the #RoyalWedding. https://t.co/uxdabZEgUu

— Us Weekly (@usweekly) May 17, 2018
He went on to reveal that he was still in place to give Meghan away after the scandal, though his health waned in the days following.
"The truth is I couldn't get over the fact that that had happened — that all that stuff was working on me, I had a bit of a heart condition, this pushed me a little further to the point where I had heart palpitations, I had to go and drive at two in the morning to a hospital in Rosarito [Mexico] to the hospital, and they sent me to another little hospital and then they sent me to a bigger hospital in Rosarita, the General Hospital, and I had a heart attack.
"The hospital stabilized me… but after about a day and a half in that hospital, I said I feel better and I want to go and I wanted to check out now. I want to go to the wedding. I had to have myself signed out and had to leave on my own against their wishes but I checked out and I thought I was better."
Thomas then talked again with Harry and Meghan, with plans set to continue as they were.
"I got a call from a guy … who was assigned by Harry, I think. He said, 'we are going to take you tonight.' At that time I started getting heart palpitations and I started getting chest pains and I said I have to cancel. And that was because I didn't take care of the heart problems before, so I had another friend take me back across the border to a hospital in the States where I was told my condition was very bad and I had to operate and so I had heart surgery."
Extraordinary that Princes Charles hasn't had ANY contact with Thomas Markle before or since walking his daughter Meghan down the aisle.. @GMB #Markle pic.twitter.com/wvtqvRtcy6

— Piers Morgan (@piersmorgan) June 18, 2018
In the end, Meghan's father ended up watching while hiding from the press in a small bed and breakfast. He admits he's gutted to have missed the event, but was thankful for Prince Charles, who took his place and walked Meghan down the aisle of St. George's Chapel, Windsor.
"I was very upset it wasn't me, because the whole world was watching my daughter. The unfortunate thing for me now is I'm a footnote in one of the greatest moments in history rather than the dad walking her down the aisle," he said.
"I can't think of a better replacement than someone like Prince Charles. He looked very handsome and my daughter looked very beautiful. I was jealous … I wish it had been me, but thank God he was there and I thank him for that."
For more on Thomas' admissions, watch the interview below:
It's unfortunate that Thomas wasn't there to see his daughter wed, but at least it didn't ruin what was an otherwise truly special day.
Do you think Meghan and Harry and made for each other? Share this story if so!