Being married to someone with an alcohol addiction is not easy, however, Tim McGraw's wife stayed by his side, making sure to honor the marriage vows she made.
The couple has had an eventful life together. Let's look at their last 28 years together.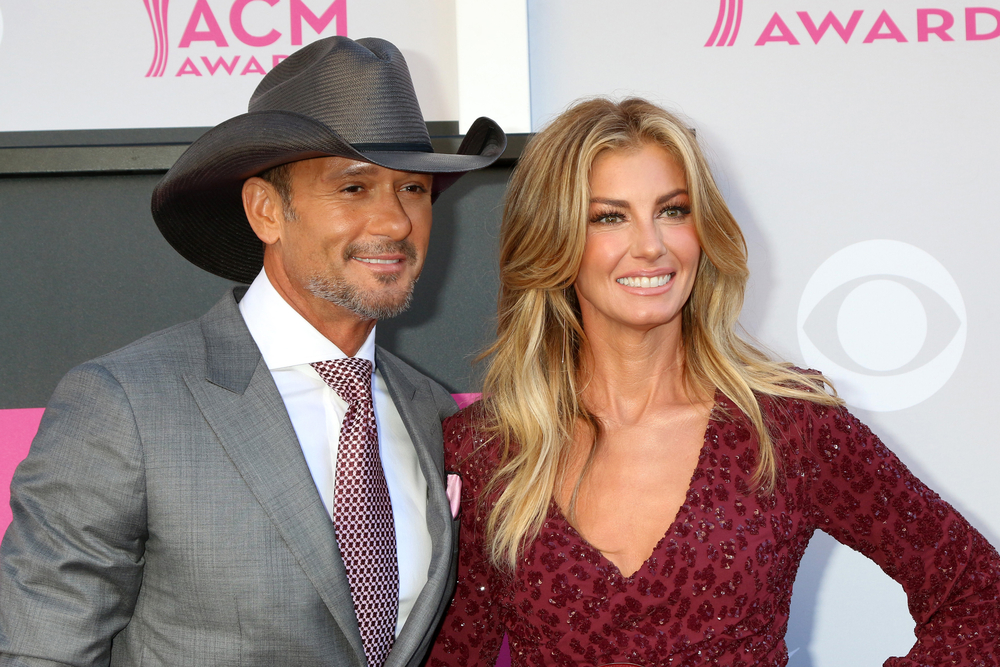 The first-time country musician Tim McGraw met his wife Faith Hill at the New Faces Show in Nashville. It was 1994, and they only talked for a few minutes. At the time, McGraw was dating Kristine Donahue and Faith had just divorced Daniel Hill.
Two years later in the Spring of 1996, they met again at the Spontaneous Combustion tour. While McGraw was recently single, Faith was engaged to Scott Hendriks at the time.
Despite that, the two met and shared a tender moment backstage which prompted Faith to break off her engagement.
The couple had their fair share of roadblocks. Tim later revealed that he had asked so many times for Faith to marry him but she refused because she did not want to be involved with another country singer, as she believed it would not work out.
A few months after they started dating, Tim was getting ready to play at an outdoor country festival. He asked her to marry him again as he was getting ready for it.
"And she said, 'You're asking me to marry you at a country music festival in a trailer house? And I said, 'Well, it's pretty apropos if you think about it.' She goes, 'Are you serious?' And I said, 'Well, yeah, I'm serious."
Right at the crucial moment, McGraw was called to the stage for his performance and had to leave without hearing Faith's answer. After he finished his set and rushed back to his trailer for an answer, Faith had already left. However, she left a message in lipstick for him on his mirror. She wrote, "Yes, I'm gonna be your wife."
READ MORE
While life has been kind to them, they have been quite open about their struggles as well. The singer revealed how his wife had stuck by his side through his lowest. When he was struggling with alcoholism, she did not give up on him or their marriage.
He initially used to drink before performing because it helped him loosen up. However, at some point he recognized his dependence on alcohol, he recalled, "I remember a moment when I was getting out of bed and going to the liquor cabinet and taking a big shot at 8:00 in the morning and thinking, 'I have to wake the kids up.' I went straight to my wife and said, 'This is where I'm at.'"
He realized he could not function without alcohol and when he told his wife she calmed him down and suggested she help him out. With her support, he was able to kick the habit. These days, he relies on exercise for his stress. ´The singer has been completely clean since 2008.
Now that Tim is 23 years sober, he is celebrating his 26th anniversary with his wife Faith. Their marriage is a testament to sticking to one another through good and bad. They both posted on social media about how crazy about one another they still are.
The couple share three children together, Gracie, Audrey Caroline, and Maggie Elizabeth McGraw. "Faith saved my life in a lot of ways — from myself more than anything. I can go down a dark road sometimes, when you're not feeling good about yourself, and she pulls me out. My wife makes me a better man," McGraw said fondly of his wife.
He is also very fond of his daughters. He said about them,"They're all completely different creatures. But they all have big hearts, and they are all very polite and they really respect people, and they all feel like they wanna make a difference in the world. Hopefully we've instilled that into them."
Faith herself is a very committed woman and makes sure she always puts her daughters first; even before her career.
Faith and Tim McGraw share a beautiful bond with one another. We wish them both the best of luck in their marriage and wish them a happy anniversary!
Share this with others to show them what a healthy marriage looks like!