A San Diego truck driver is being credited for putting an end to an hours-long police chase by deliberately crashing into the suspect's vehicle.
"The second I heard his engine, I floored my truck, and I hit him," he said. "[I] had to end it before he killed someone, or hit a car or hit a kid."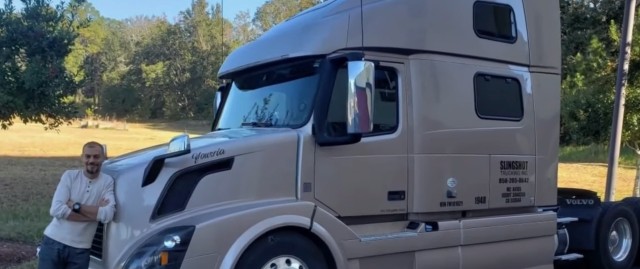 On Tuesday evening, a murder suspect fled from police and led them on a chase that lasted several hours and went through several California cities before ending in Pomona, California.
During the chase, the suspect drove at a high rate of speed, ignored red lights, came close to hitting other cars, and drove on the sidewalk.
It was an extremely dangerous situation.
Ahmed Shaaban, a truck driver, was in the area of the police chase and had heard about it while on the phone with a friend.
"I was on the phone with one of my friends. Saw him pass with 40 to 50 police cars behind," Shaaban told 10 News.
About 15 minutes later, while Shaaban was sitting at a red light, he saw the murder suspect again.
The suspect's vehicle was about to cross his path and Shaaban knew he had to act.
Dashcam footage from Shaaban's big rig captured the moment the suspect's vehicle collided with Shaaban's truck.
"He took a left. So, my intention really was to block the entire intersection," Shabaan told FOX News, "but by the time my truck reacted and he gunned his truck and I gunned mine, we just slammed into each other."
Finally, the chase was over.
Police took the suspect into custody. A passenger in the car who was a friend of the suspect claims they did not know he was wanted for murder.
Thankfully, Shaaban was not injured in the crash; however, he believes his big rig, which he purchased less than six months ago for $75,000 is totaled.
Although he's concerned his insurance won't cover the damage, he doesn't regret his decision.
"I would have done it again … somebody had to stop him. Ultimately, it's a piece of metal, and I may have saved a life," he said.
A GoFundMe has been set up to help raise money for Shaaban. So far more than $30,000 has been raised.
Thank you Ahmed for risking everything to stop this murder suspect in his path. You are a hero!
Share this story on Facebook.