One of the Capitol police officers honored for his bravery in diverting an angry mob away from the senate floor during the January 6 riot is now further credited with potentially saving Senator Mitt Romney, according to CNN.
Capitol police officer Eugene Goodman was awarded the Congressional Gold Medal for his bravery after footage of him leading the angry mob away from the senate went viral.
The 41-year-old army veteran lured the group away from where lawmakers were carrying out the final electoral count, trying to beat the rioters back several times as he radioed for back up.
Now security footage presented during former President Donald Trump's impeachment trial shows the police officer potentially saving Republican senator Mitt Romney from the violent mob.
The video shows Officer Goodman passing Romney and gesturing him to turn around in order to get to safety. The officer then continues to the first floor to confront the mob and redirect them.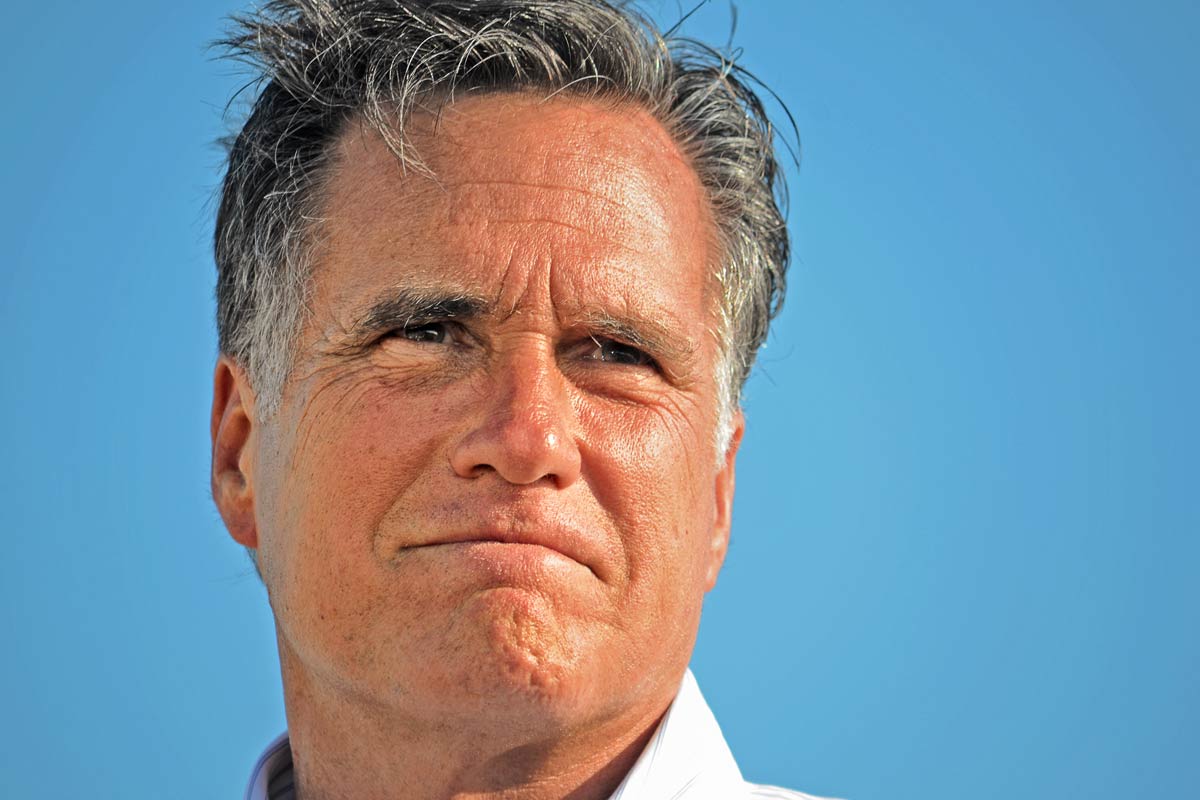 House impeachment managers played the video for the first time on Wednesday.
The original video, which went viral on social media, shows Officer Goodman arriving on the first floor as he urges the protesters at the front to stay back.
Romney said after the latest video was played that it was "obviously very troubling" and that he hadn't known he had come that close to the rioters. "It tears your — your heart and brings tears to your eyes. That was overwhelmingly distressing and emotional," he said, as per CNN.
The senator from Utah and former presidential candidate, has come under heavy criticism by Trump and his supporters. He was the only Republican to vote to convict Trump during his first impeachment trial last year.
In May of 2020 Trump called him a "loser" in a tweet after he and Sen. Susan Collins (R-Maine), criticized his firing of State Department Inspector General Steven Linick without a stated reason, as per Forbes.
Trump posted a video of Romney's loss in the 2012 presidential election, and captioned the tweet, from his now suspended account, "Loser" adding: "I hope you're listening".
Romney, who was endorsed by Trump in 2012 but refused to return the favor for Trump's presidential campaign in 2016, told reporters he thanked Goodman for protecting him.
"I expressed my appreciation to him for coming to my aid and getting me back into the path of safety and expressed my appreciation for all that he did that day, and he took me through his full day," Romney said.
"And he was exhausted going from one part of the building to the other, up and down stairs. He indicated that he had to breathe a lot of bear spray and tear gas, and that he was nauseated. And so, he was talking to me about the whole day, and I just again told him how much I appreciated him, making sure that I was out of harm's way."
Romney said he was alerted to rioters by a text and said he left the Senate entering a hallway which was empty except for Goodman.
"Officer Goodman came and saw me and said, 'Go back in, it's not safe here. Go back in, you'll be safer in the chamber.' So, I came back, and took my seat," Romney said.
The video of Goodman's efforts was played as part of Trump's second impeachment trial where he is accused of inciting the violence which led to the insurrection of the Capitol. Five people died that day and more than 50 officers were injured.
The trial opened with a graphic video presented by House impeachment managers of the U.S. Capitol siege. It makes for distressing viewing as officers are seen crying out as they were getting crushed in the Capitol's corridors and their protective equipment was being ripped off them.
Democratic Del. Stacey Plaskett of the Virgin Islands, one of the nine impeachment managers, used previously unseen footage to show where the rioters had breached the Capitol and how close they were to then-Vice President Mike Pence, whom they were targeting.
"They were coming at the urging of Donald Trump to keep Congress, a separate branch of government, from certifying the results of a presidential election," Plaskett said.
Goodman, who is now the acting deputy Senate sergeant-at-arms, had already been hailed a hero after previous footage, captured by Huffington Post reporter Igor Bobic, emerged.
At one point Officer Goodman stops in the hall and looks to a door on his left leading to the Senate chambers, he then leads the mob of pro-Trump supporters to the right, away from the senate.
A bill was introduced by Reps. Emanuel Cleaver of Missouri, Charlie Crist of Florida and Nancy Mace, of South Carolina, to award the officer for his bravery.
"He's a hero!" Congressman Crist said at the time. "The United States Capitol was under attack by armed, violent extremists, and Officer Eugene Goodman was the only thing standing between the mob and the United States Senate."
Goodman was further honored when he was selected to escort Vice President Kamala Harris to the inauguration ceremony.
He appeared at the ceremony as the acting Deputy Sergeant at Arms for the House for Inauguration Day.
Officer Goodman, from Southeast Washington, served in the Army from 2002 to 2006. In his final year he was deployed to Iraq.
His awards include the Army Commendation Medal, Army Achievement Medal and Army Good Conduct Medal, as reported by Military.com.
Nobody knows how they would react when faced with this kind of threat, alone, but Officer Goodman showed the level of courage and bravery that the rest of us can only watch in awe. He is a true hero.
Please share.