Chris "Birdman" Andersen became an iconic NBA player. Through his 16 years in the league, representing five different teams, he was most recognizable for his nickname, his vast tattoo collection and signature mohawk haircut.
Andersen ended his NBA career in 2017, and since then the 43-year-old has been keeping himself outside of the spotlight. So what is he doing now? And does he still have his unique style?
Here's all you need to know about "Birdman" – and why he started his professional career in China.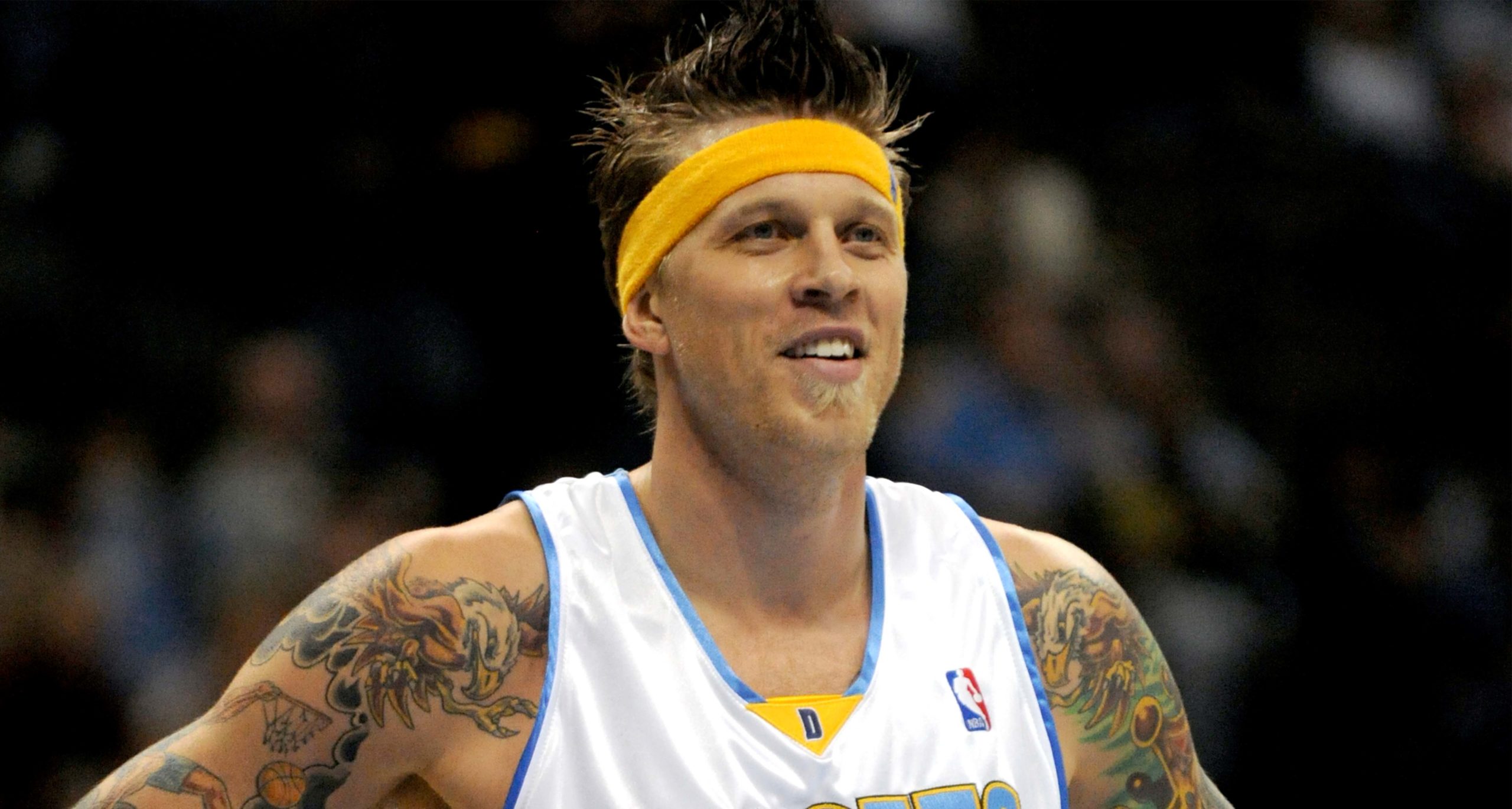 Becoming a professional athlete is many children's dream. Whether it's football, basketball, gymnastics, or swimming, the path to the final goal – no matter if it's playing one game or competing in the Olympics – means hard work, dedication, and a lot of sweat and tears.
Some are fortunate enough to get the tools they need from the start: eating healthy, getting a ride to practice, and maybe even the best and newest gear isn't a problem.
Chris "Birdman" Andersen
For others, money and other things aren't a given factor, which is something we all should think about. There are hundreds of inspirational stories of athletes out there that have shown that you can go all the way even though the basics of good food and support aren't there from the beginning.
For some, a sport can also be a getaway from the beginning, and small coincidences can be the keys to success. And one athlete that had a very rough start was Chris "Birdman" Andersen.
The Long Beach native had a tough start to his life, with his father abandoning him and his mother leaving them without money and a bright future.
Chris "Birdman" Andersen managed to get to the NBA with dedication and hard work, playing in the best basketball league for 16 seasons.
During his time in the NBA, Andersen went through several challenging periods, including a two-year suspension. But in the meantime, Birdman also became a well-respected athlete, not only because of his talent but also because of his unique looks.
Now, Andersen is retired from basketball. This is him today!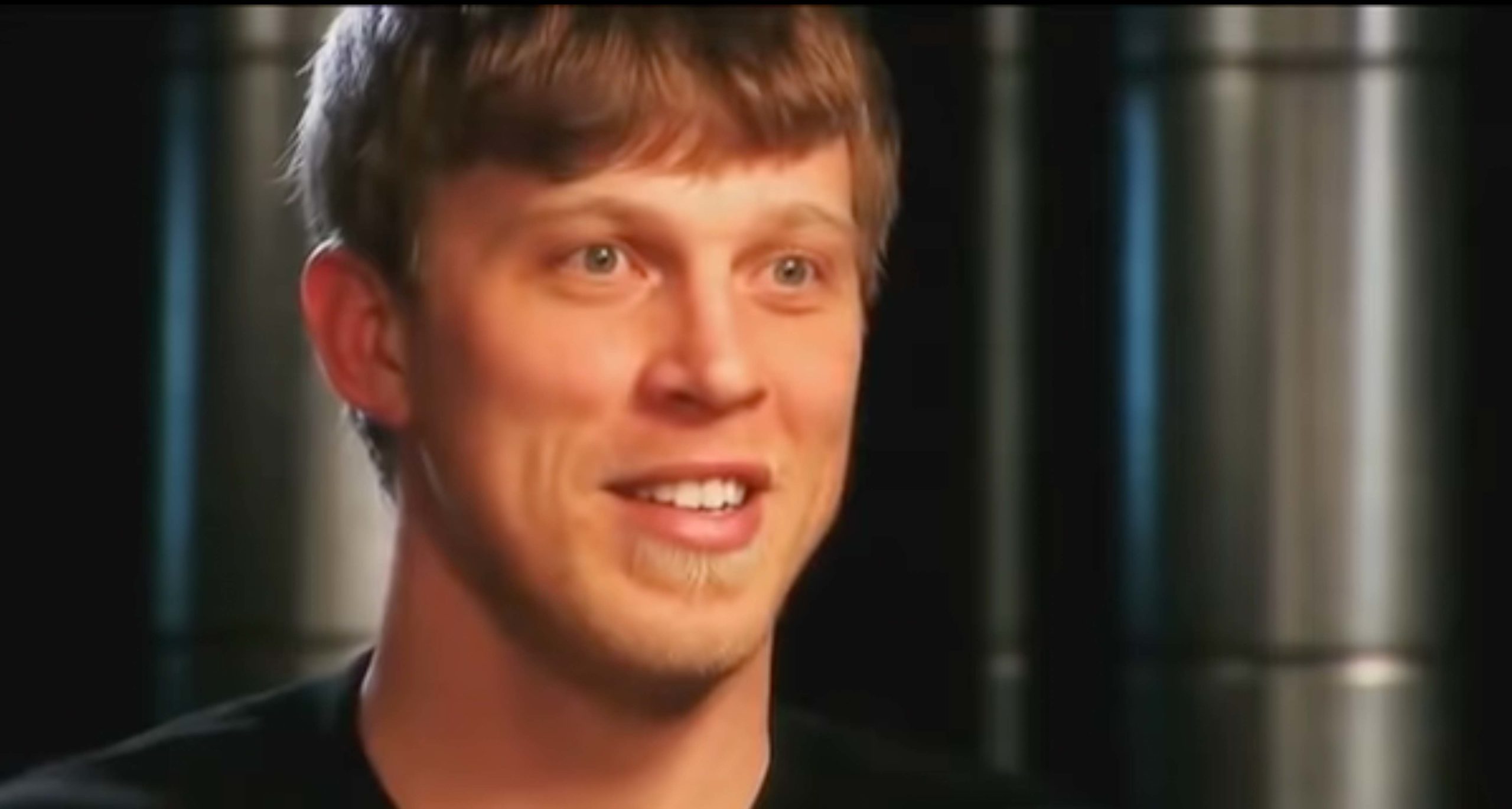 Chris "Birdman" Andersen – early life
On July 7, 1978, Chris Andersen was born in Long Beach, California. His father, Danish immigrant Claus Andersen, worked as a corrections officer, and his mother, Linda Holubec, was a waitress and played basketball in high school.
At four years of age, Claus decided to move the family to rural Texas. The move for the family didn't make sense at first – but it turned out that the father had a plan. According to an ESPN feature, California had stricter alimony and child-support laws. And once their move to Texas was finished, he deserted Linda.
"How could you do that to your own kids?" Linda recalled to ESPN with tears in her eyes. "All they did was love you, and you walked away from them."
Chris Andersen was struck hard by his father leaving. He sat in a barn close to the family's house for hours, knees pulled up to his chest, rocking back and forth.
His mother, Linda, could barely give her children food. At the same time, she fell into a depression and had to pull her children out of therapy because they needed to save money.
"We had a half a jar of peanut butter and a loaf of bread," she said. "We had nothing."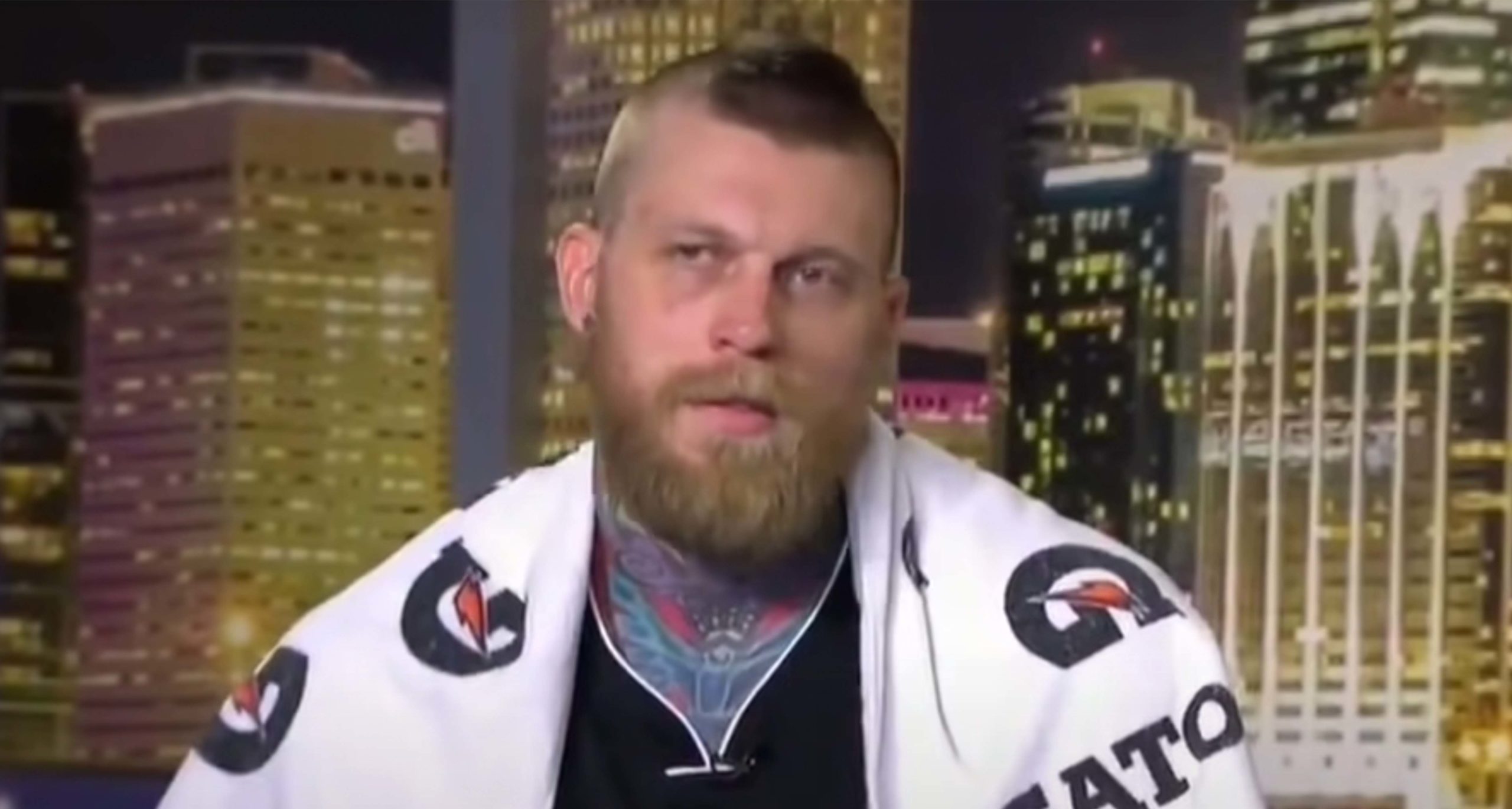 Andersen's uncle, James Ogle, heard what happened to Linda. He decided to leave his job as a Navy supply boat captain in California, emptied all his savings, and left for Texas. He helped the family finish their house, even building a tree swing for Chris' sisters.
Start of basketball career
Furthermore, he added a basketball hoop on the barn – and Chris had found his passion. However, the situation at home was far from good. The family was poor, and in middle school, Chris was sent away to live in a group home. He stayed there for three years.
"I had the opportunity to either live in a military school or at a children's home," Andersen recalled. "And I'm just thankful that I actually got the choice to pick one of the two. I picked the children's home."
As Chris Andersen grew up, he became a tall and athletic young man. Finally, his varsity coach convinced him to try basketball, and it didn't take long before everyone saw that he had talent.
Talent didn't only mean Chris Andersen might have a shot at going pro. Most importantly, it provided an opportunity for a potential scholarship. In the long run, that meant that he could be able to reach for his dreams, pursuing a life on a different level than his family ever could have provided him with.
Andersen wasn't a great student, with poor grades that eventually led him to miss out on an opportunity to play for the University of Houston. So instead, he decided to go to junior college in Brenham, Texas, playing for Blinn College for one year. His high school coach recommended Andersen, whose father happened to coach at Blinn.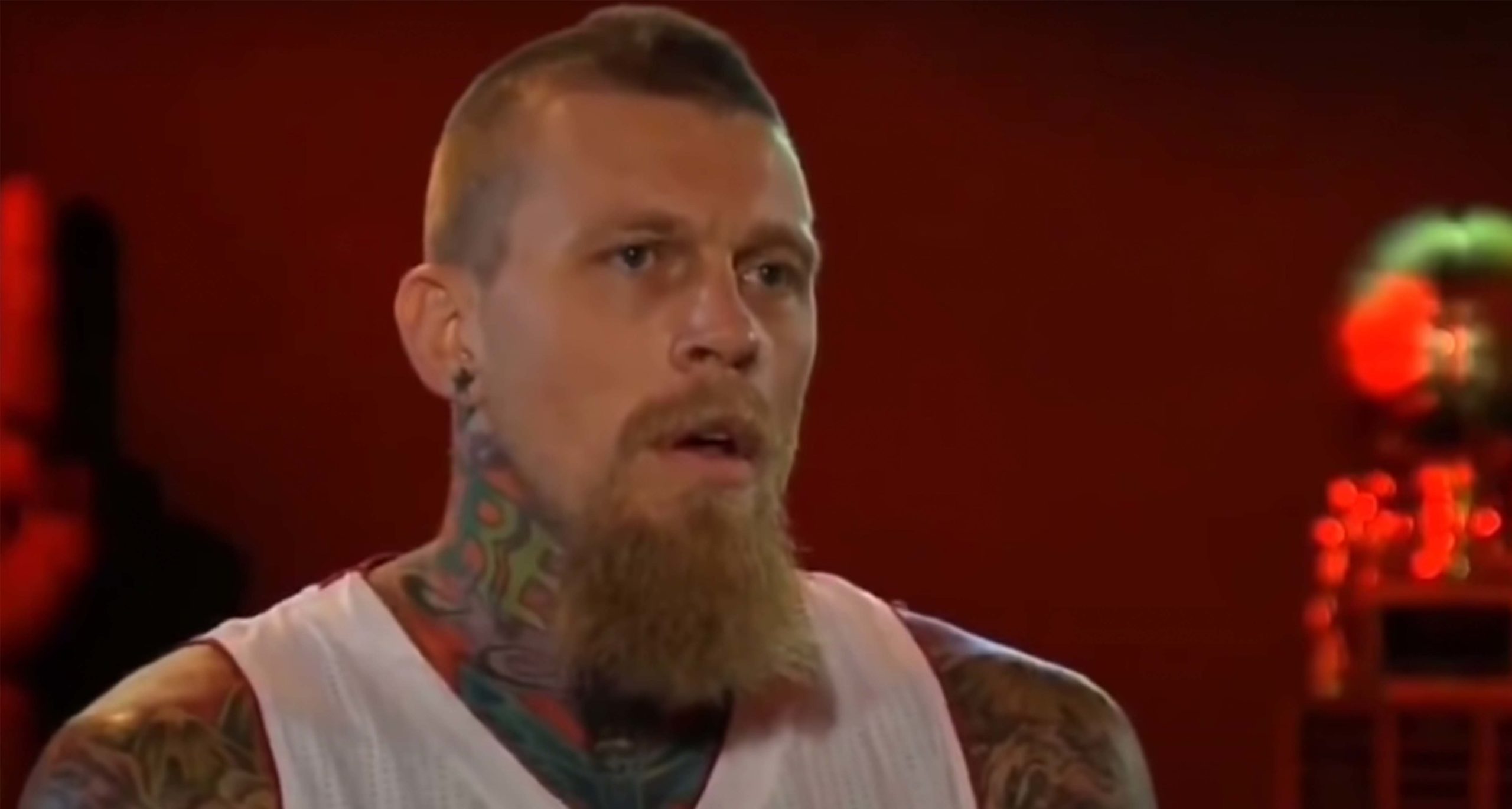 He didn't disappoint anyone, playing one season and averaging 10.7 points, 7.7 rebounds, and 4.7 blocked shots, even though he only played an average of 21.3 minutes per game, leading all college players in blocks.
Undrafted in 1999
Not only did Andersen do great at the field, but his mother, Linda, had also gotten a fresh start to her life. She could even invite half the team to her home in Iola, Texas, for a barbecue.
People had told Andersen that he could be making serious money in the pros, but getting there wasn't easy.
Many thought he would get drafted since he was doing great on the court, but instead, he went undrafted through the 1999 NBA draft. Why? Birdman didn't know that you had to apply for the draft officially and not just declare that you wanted in.
"My head got so big I thought I could do anything," he told ESPN back in 2008.
"When I left Blinn, I really didn't know what I was doing," he added. "I didn't have a plan."
Instead of just giving up, Andersen was to take a whole different route to success. Through the help of his high school coach, he got to play in several exhibition games with semipro team the Texas Ambassadors, made up by former college basketball players.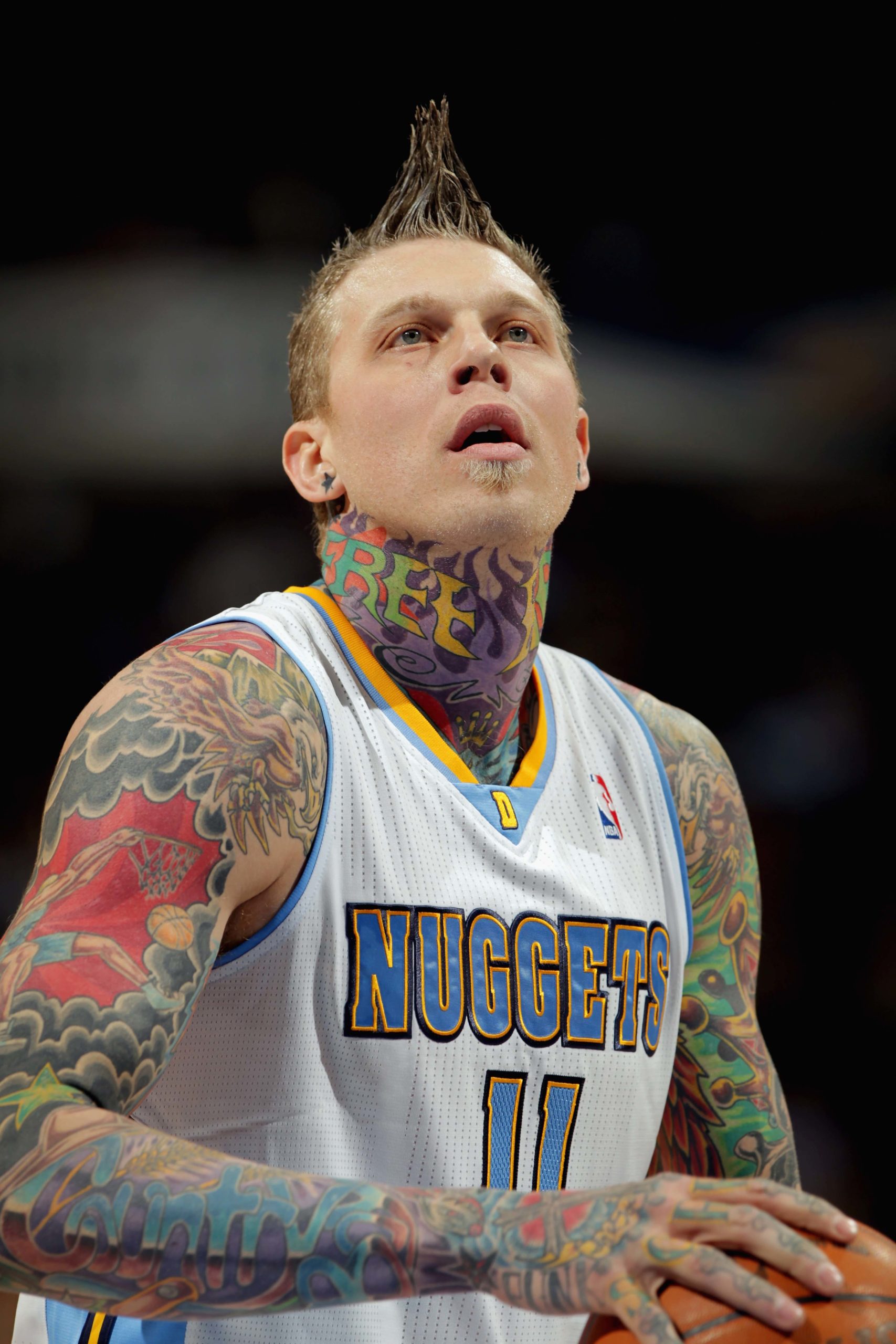 The team went all the way to China to play, and once there, a Chinese professional coach recognized Andersen's strong game on the field. Soon after, he was given a contract to join the Jiangsu Nangang Dragons to play professionally.
"Everybody just would chain-smoke"
In December of 2000, he left for China, where he lived at a hotel for almost five months.
"I didn't really like working, so I took the offer," Andersen recalled.
"Imagine taking a guy who had only ever been out of Texas twice and putting him in the middle of China," says Andersen with a grin. "Just try and picture that."
The culture in China was something he wasn't quite used to, and Andersen witnessed something very strange to him.
"Definitely the smoke in the gyms. They had that smoking rule over there. No, they didn't even have a smoking rule," he said. "Everybody just would chain-smoke their cigarettes. You'd just look up, and there'd be smoke everywhere.
"Fans, players. Players were just sitting on the end of the bench smoking cigarettes."
After starting his professional career in China, Birdman headed back to the United States, still motivated to pursue his dream career of being an NBA player.
He went to play in the NBA's Development League, the association's then-new minor league. However, it didn't take long before he – and his mother Linda – had reached the goal of making it in America.
Chris "Birdman" Andersen – NBA career
Just two games into the season in the so-called D-League, Chris Andersen was signed to his first NBA contract. The one-year $289,747 deal with the Denver Nuggets was history in the making for Birdman, and just two days later, he went to his first complete NBA game, not as a spectator but as a player.
Chris Andersen's first season was a huge success. Birdman became known for his reckless, intense playing style and athletic dunks. Even though he wasn't a superstar, people loved watching him play. And in the end, isn't that what it's all about?
During his years with the Denver Nuggets – where he developed into one of the NBA's top defensive big players – Andersen also got his famous nickname. With his many impressive dunks and arm span, Nuggets teammates Junior Harrington and Kenny Satterfield thought he looked like a bird, giving Andersen the nickname "Birdman."
What Andersen thought of the nickname isn't clear, but it certainly was a good thing for him. After a dunk or blocking a throw, Andersen often celebrated by stretching his "wings," mimicking a bird taking flight.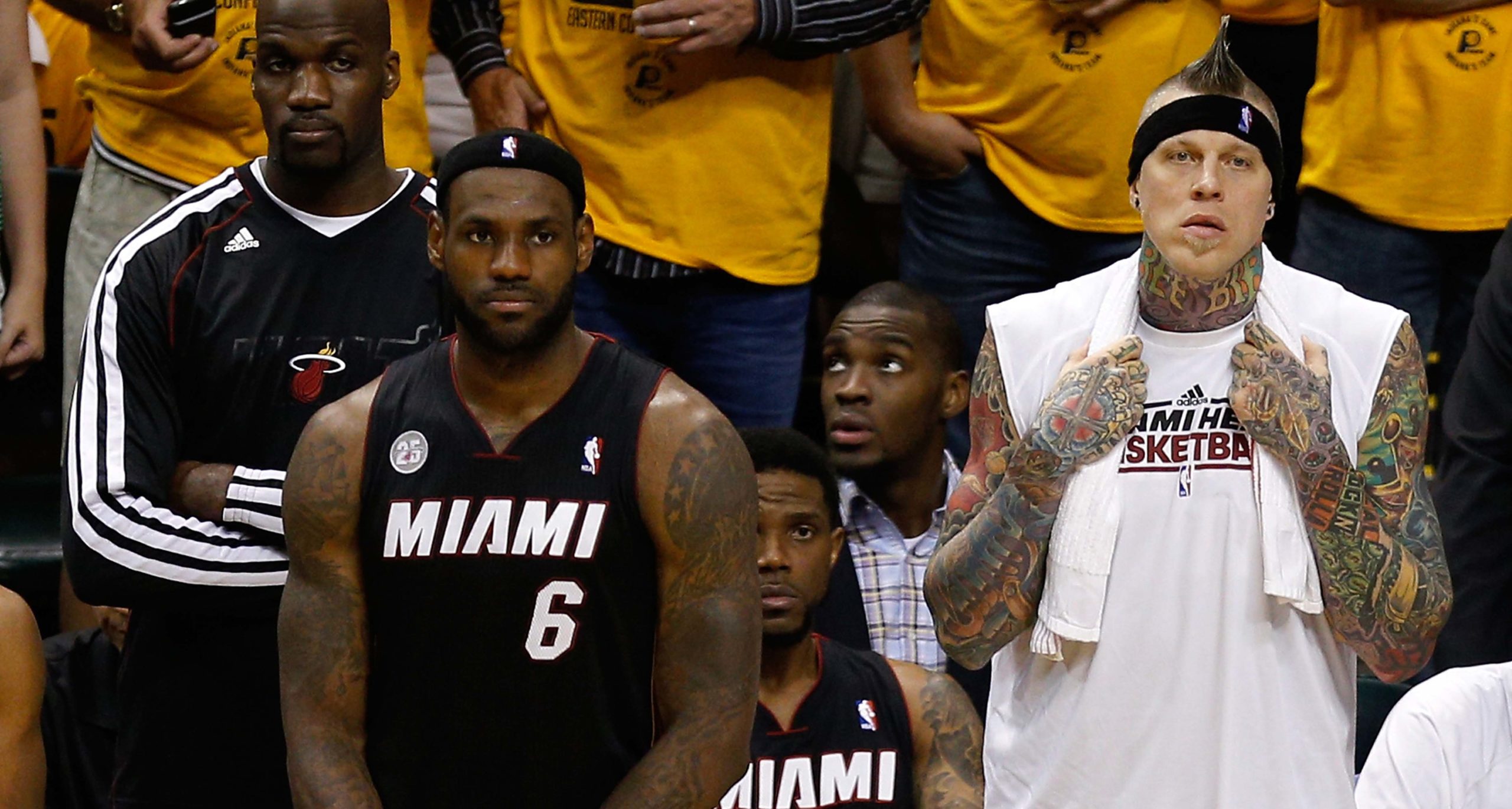 Andersen played 16 seasons in the NBA, representing five different teams, including the Miami Heat, playing alongside Dwayne Wade and LeBron James.
Chris "Birdman" Andersen – tattoos meaning
As he became more and more famous, he also changed his appearance quite a lot, with a particular spike haircut and many, many tattoos.
In December 2004, as Andersen played a game in Los Angeles, he even got recognized by the big-time Lakers fan and star actor Jack Nicholson.
"In his first go-round in the league, his spiky hair got more attention than anything his teams did on the court. Jack Nicholson once pointed to the 'do and gave him a thumbs-up from his courtside seat at the Staples Center," ESPN reported.
"I told him to put me in a movie," Andersen said. "The next Batman."
Chris Andersen sure loves tattoos. However, he hasn't put them on his body just for the sake of it. In fact, the tattoos tell his life story.
In high school, Birdman became very impressed and interested in tattoos. So at 21, he did his first tattoos, inking the Chinese symbols for "good" and "evil" on the insides of his forearms.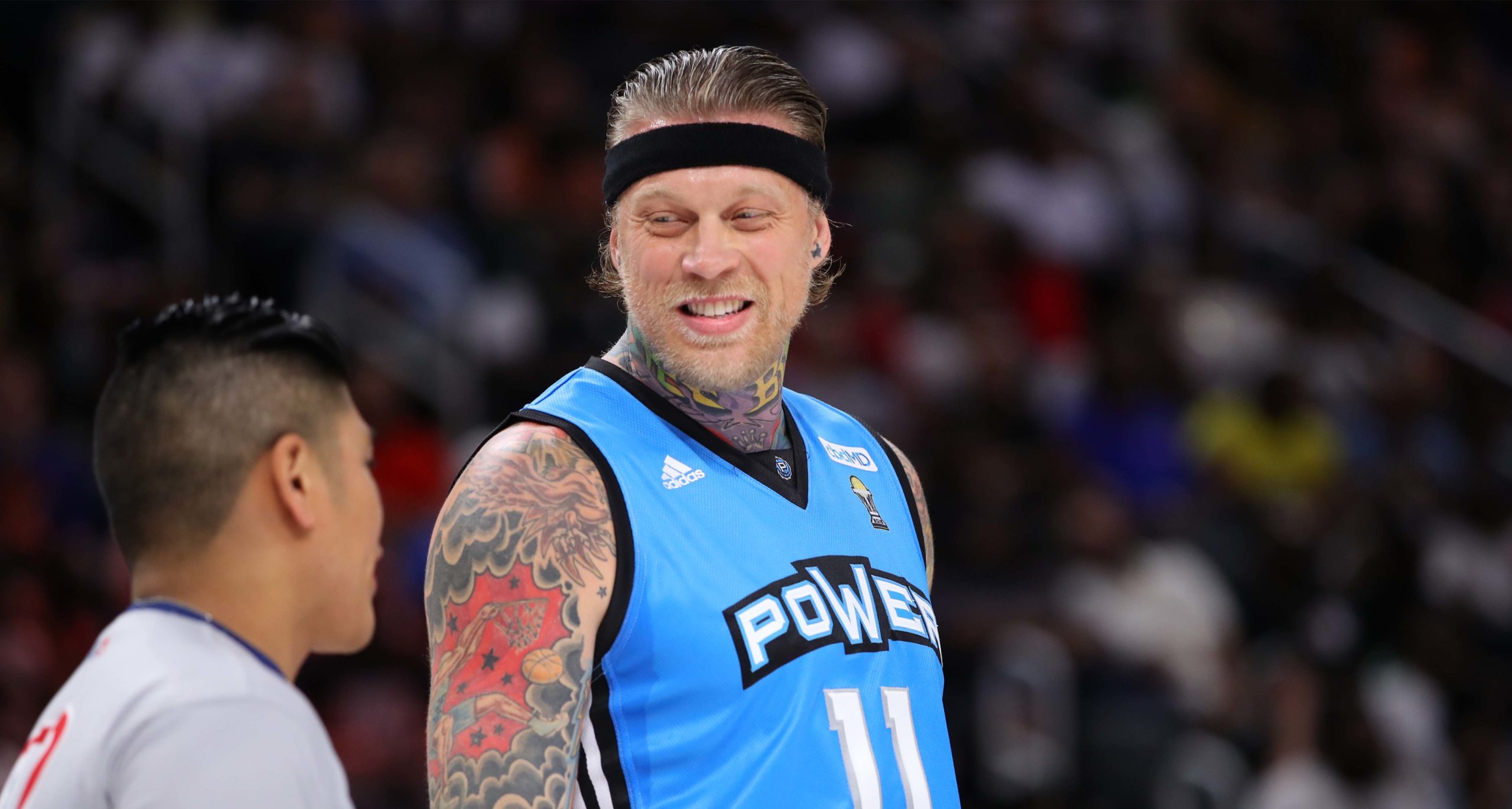 As his tattoos are very personal, Andersen has several times declined about going into specifics.
"I like all of them, man," Andersen said. "It ain't something I regretted. It wasn't like I got drunk and went and got a tattoo."
"Some points in my life, I came across a barrier where I'd been," Andersen told Fox in 2013. "So every tattoo has a meaning. I didn't just go get a koi fish or something like that."
Famous neck tattoo
One of Birdman's most famous tattoos is across his neck, which certainly brought plenty of attention. The words "Free Bird" can be read in bright yellow lettering. According to Fox, Andersen is a massive fan of the Lynyrd Skynyrd song with the same name.
After he was suspended back in the mid-2000s, he listened to the song regularly. He also explained that the song had "something to do with having just broken off an engagement."
Further, the back of Andersen's head features tattoos representing his playing style, as reported by SportsCasting. His "Give me War" and "Forever Nightmare" tattoos symbolize his role on the court.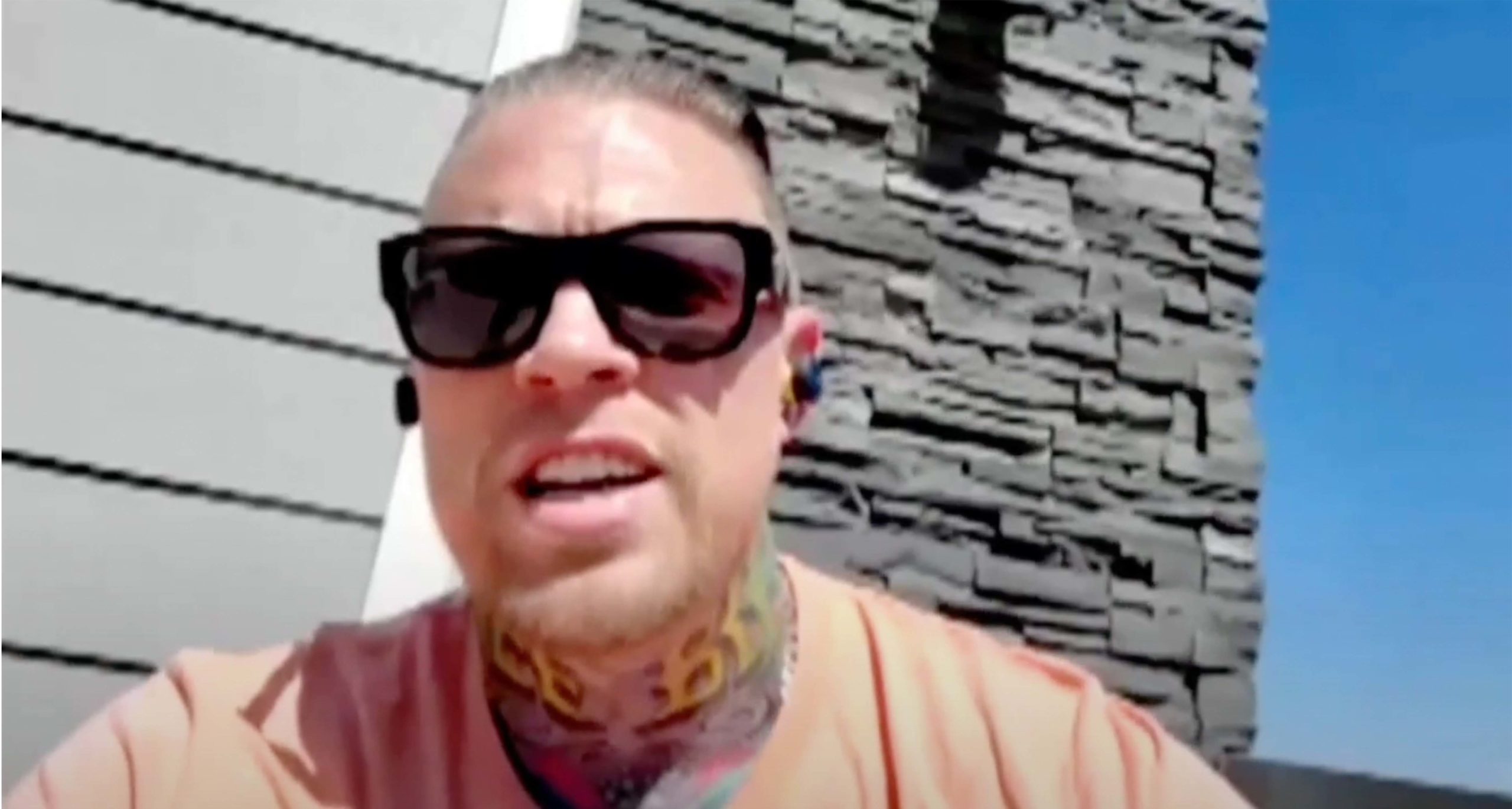 Birdman ended his NBA career after the 2016-2017 season with the Cleveland Cavaliers.
This is Chris "Birdman" Andersen today
He went on to play in the famous BIG3-league one year after retiring from the NBA, even winning the BIG3-championship. In 2019 he was supposed to play his second season in the league, only to forfeit due to a season-ending knee injury.
In the summer of 2020, Andersen appeared in a video interview, the latest we've seen from the former NBA star, and he sure hasn't changed!
According to Celebrity Net Worth, the 43-year-old has a net worth of around $14 million.
Speaking with the Denver Post in late 2018, Andersen revealed that he had settled in Colorado. However, it's not clear whether he has a partner as of today.
"I fell in love with the outdoorsy feel," he said of his move back to Colorado.
Chris "Birdman" Andersen sure was an entertaining player in the NBA. Not only did he become a big star, but most importantly, he is a living example of never giving up on your dream. Andersen came from nothing – and despite having some problems along the way, he always looked towards his goal of playing in the NBA no matter what.
Please, share this inspiring story about "Birdman" on Facebook with friends and family!