Football player Damar Hamlin remains in the thoughts and prayers of sports fans around the country. On Monday, the 24-year-old Buffalo Bills safety collapsed during an NFL game against the Cincinatti Bengals, after a routine tackle led to cardiac arrest.
In one of the most emotional and shocking moments in NFL history, Hamlin received CPR on the field for ten minutes and was then taken to the hospital, where he was said to be in critical condition.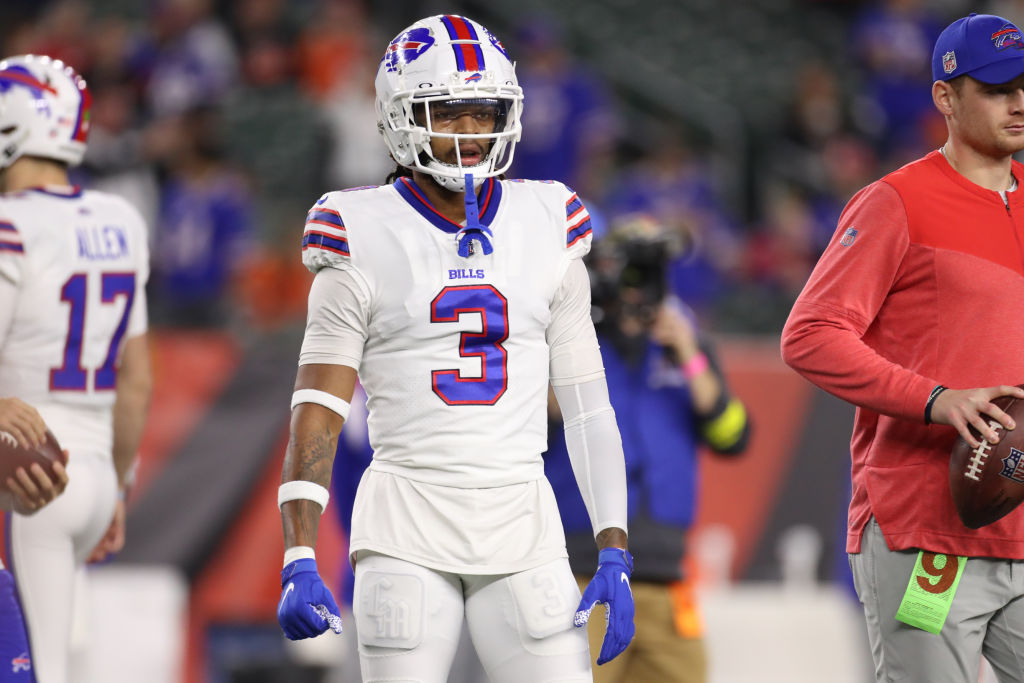 But while we wait for further updates about Hamlin's health, fans have been showing their support for the athlete in a big way: by donating millions to Hamlin's toy drive charity.
Hamlin initially created the GoFundMe fundraiser in 2020, shortly before beginning his NFL career. His goal was to buy toys for children in need during the holidays, and he initially asked for a goal of $2,500.
"As I embark on my journey to the NFL, I will never forget where I come from and I am committed to using my platform to positively impact the community that raised me," Hamlin wrote in 2020. "Thank you so much for supporting me on and off the field."
But in the aftermath of Monday's accident, the page has gone viral and fans have been pouring in donations as a way of showing their support for Hamlin. The total now stands at a whopping $6.3 million and counting.
Clearly, it goes far beyond donations from the "Bills Mafia," as Buffalo fans are known. The support for Hamlin has transcended any team affiliation and even the sport itself.
The donations have been big and small, coming from both high-profile NFL stars to people who likely have no interest in football at all. Tom Brady donated $10,000, as did Broncos quarterback Russell Wilson. Rams quarterback Matthew Stafford donated $12,000.
While Hamlin remains in critical condition, representatives for the athlete are now managing the page and are working with Hamlin's family to ensure the safe delivery of the funds.
Hamlin's interest in giving back to children in need stems from his own rough upbringing: according to AP, his father was in prison for over three years for selling drugs and he lost three friends to gun violence.
His charity, The Chasing M's Foundation, also supports back-to-school drives and kids camps, in addition to the holiday toy drives.
It's an inspiring outpouring of support, and was a productive way for people to show their support instead of focusing on his health. Hamlin's collapse on the field was an unprecedented moment that shocked the millions of fans tuned in for the high-profile Monday Night Football game.
Instead of sharing footage or speculation about his injury and medical condition, fans urged spreading positivity instead by focusing on Hamlin's charitable work.
In the most unforgettable image from Monday's game, players from both teams formed a circle around Hamlin as he received CPR on the field, ensuring his privacy from spectators and cameras.
The athletes were visibly emotional, many kneeling in prayer, and in that moment all the competitiveness disappeared and the only focus was on Hamlin's recovery.
Hamlin remains in critical condition, and we're all waiting on further updates about his health. We can only hope that he is able to wake up soon and see all the good people have done for his charity.
If you want to make a donation to his fundraiser, you can find his GoFundMe here. This is a tragic moment in NFL history, but fans have found a way to make something positive out of it ❤️
Please share this story and keep Damar Hamlin in your thoughts.