Living simply, small, and environmentally smart is something that more and more people are attracted to.
And in recent years, tiny homes have exploded around the world. Just look at this wonderful mini-house near Stockholm, Sweden.
But perhaps this trend is strongest in the United States.
The luxurious house below is just another example of how well you can live when you live simply.
Take a look!
It's easy to think that living in a tiny home means that you can't stand up straight or you have to take turns walking down the hall.
But with a bit of architectural ingenuity, living in a small house can be quite livable.
This tiny house look fine from the outside, but its luxurious interior is what makes people dream about moving in.
Just look at this wonderful living room…
The ceiling is made of hardwood. Gorgeous!
The kitchen is also surprisingly large—with a full oven, sink, refrigerator, and dining area.
Even the bathroom is spacious and looks incredibly luxurious with tiled walls and bathroom details in stainless steel.
This rustic house has enough space for a large bedroom.
But there's also a cozy loft for family members or visiting guests.
And if that isn't enough sleeping space, there's another bed tucked away on the other side of the loft.
I can really see myself sitting on the porch enjoying a good dinner!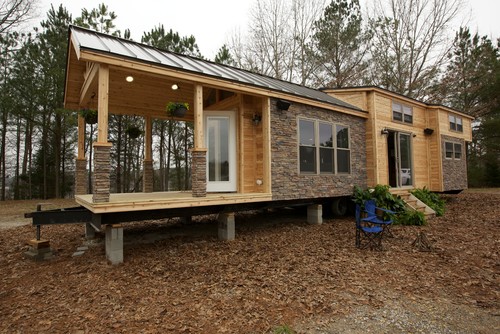 Isn't it amazing to see how nice 400 square feet of living space can be?
Please share these pictures if you'd also like to move into this wonderful tiny home!
Published by Newsner, please like