When new US President Joe Biden took office last month, a lot of the attention went to some other members of the Biden family: Joe's German Shepherd dogs, Major and Champ.
Regardless of politics, it was exciting news. Not only was it the return of the tradition of "First Dogs" in the office (former President Trump had no pets) but it also marked the first time a rescue dog would live in the White House: Major was adopted by the Bidens from the Delaware Humane Association.
However, not everyone is a fan of the first dogs. Recently, a clip of a cable news panel describing the dogs as "dirty and disheveled" has prompted outrage and backlash.
The clip comes from conservative cable news channel Newsmax. Greg Kelly, a former Fox News host, showed a picture of Champ, describing him as a "little rough."
"I love dogs, but this dog needs a bath and a comb and all kinds of love and care," Kelly says. "I've never seen a dog in the White House like this."
Kelly's guests on the program, Doug Wead and Craig Shirley, both agreed and joined in on the criticism.
Shirley described Champ as "dirty and disheveled" and "very unlike a presidential dog."
Newsmax, a relatively new cable news network, is widely considered to have a right-wing editorial slant, even more so than its larger competitor Fox News. They notably refused to call the 2020 election for Joe Biden, promoting baseless conspiracy theories about election fraud.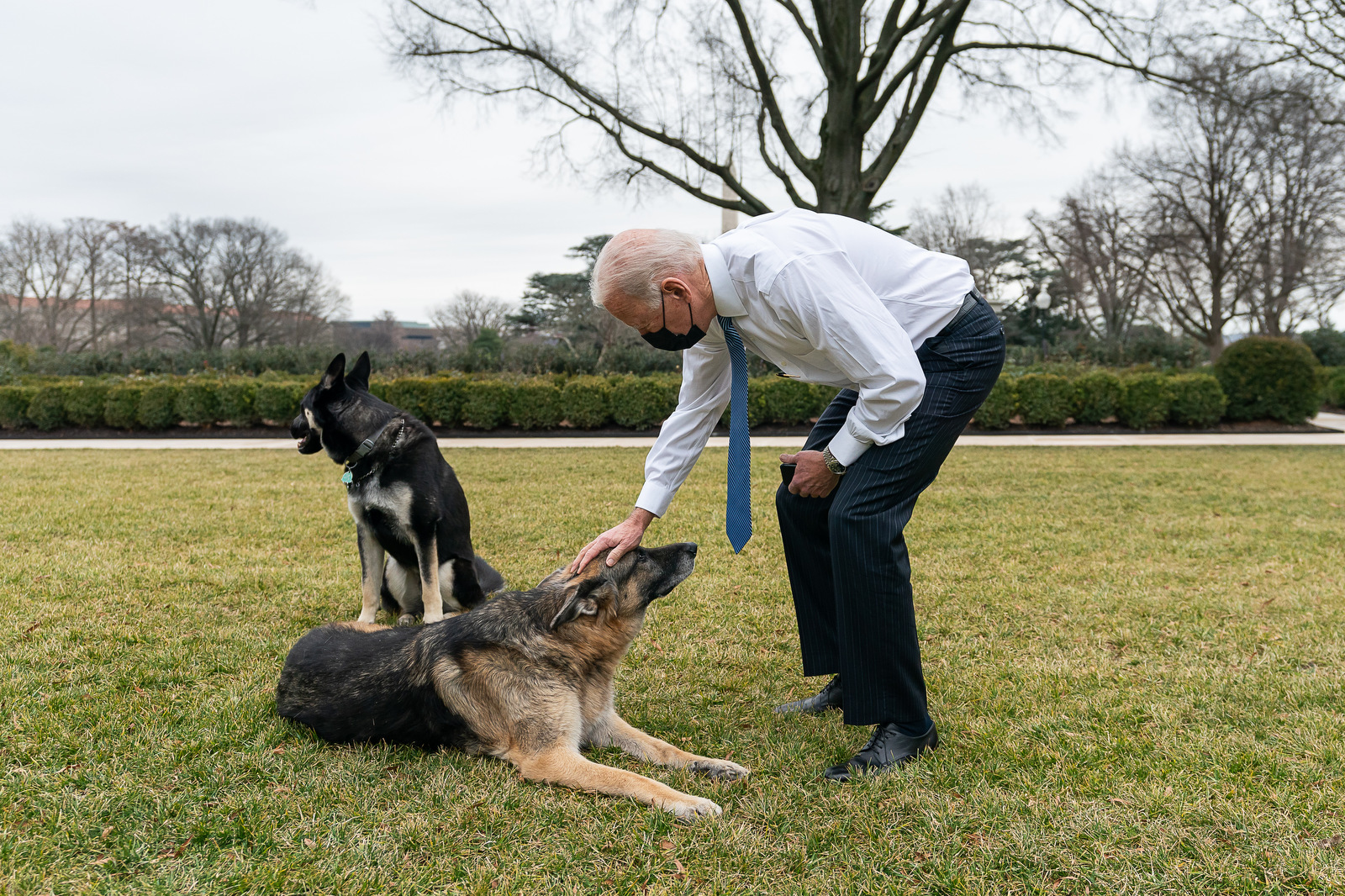 So it's safe to say this segment had a political motive, trying to paint the Democratic president as a neglectful dog owner. The panelists unfavorably compare the dog to Millie and Victory, the dogs owned by Republican presidents George H.W. Bush and Ronald Reagan during their terms.
Kelly also uses a single low-quality photo as his proof, while there are countless available photos showing the dogs looking healthy and groomed.
The segment ignited controversy online. Many thought it was uncalled for to attack Biden's dogs like this. A clip has been viewed 8.5 million times on Twitter, and many have come to defend the dogs.
"I am not a dog owner, don't know much about dog grooming, but how is this dog different than literally every other dog I've seen in my life?" one person replied. "This is just a normal ass dog. What parts of him are supposedly dishevelled?"
Even Oscar-winning actress Patricia Arquette chimed in: "When [you're] insulting an actual dog you know you got nothing."
Given the attention that Major has gotten as the first rescue dog to live in the White House, it also feels the criticisms reflect stereotypes about shelter dogs — that they're dirty and less healthy than bred dogs.
While it doesn't seem like Greg Kelly will be at the White House petting these dogs any time soon, they've still got plenty of high-profile fans. Major got his very own "Indoguration" that included a performance by singer Josh Groban.
We think these dogs are beautiful, and they seem to be living their best life in the White House with the best care.
What do you think of the comments made about the Biden dogs? Share this story with your thoughts.