Every winter, we hear stories about dogs who get trapped on ice or in freezing water — and the brave people who go out to rescue them.
That was the case recently, when one dog ended up stranded in the freezing cold for days until rescuers went out to save him.
According to WXYZ, a year-old puppy got stuck on the Detroit River after apparently being chased onto the ice by a coyote.
A photographer spotted the dog on the ice, and soon the poor, scared dog was inspiring an international rescue mission.
Rescuing the dog was no easy task. The ice was so thin that any rescue attempt would be difficult; WXYZ reports that the fire department and Coast Guard declined to help due to the risk.
"That's a little life out there. We had to fight for him," Patty Trevino, director of the River Rouge Animal Shelter, told WXYZ. "It was a level of frustration that I never felt, because this was a life, right there in front of us."
Meanwhile, residents on the other side of the border were looking to help the dog, too. And in Canada, a hero finally emerged willing to help the dog.
Jude Mead and Jude Mead Jr., co-owners of J&J Marine Ltd., offered to go out and rescue the dog with their airboat.
"We just went out in that area and looked around, really it didn't take long to find him," Jude said.
They were met with applause when they reached the shore, finally delivering the dog to safety. It is believed the dog was out there for at least four days, in the freezing cold and pursued by coyotes.
The dog, renamed Alfonso, was brought to Woodhaven Animal Hospital. He had frostbite on his paws, but was otherwise brought to stable condition. Vets called him a "miracle walking" for surviving the freezing cold that long.
"I feel like what saved him out there is the fact that he wasn't groomed and his coat was pelted," Dr. Lucretia Greear of the hospital told the Detroit Free Press. "He had literally like a layer of insulation that protected him from the water and the ice and it protected him from freezing to death — but he's a miracle."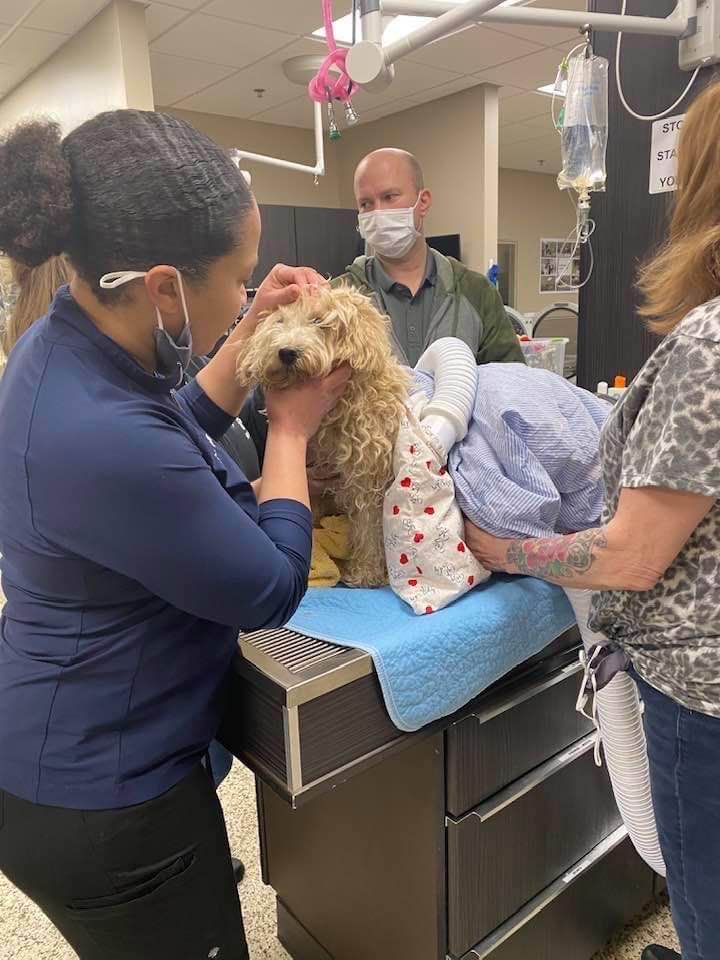 But vets weren't able to find any information about Alfonso's owners. The dog had no collar or microchip.
But vets say he's a dog who loves companionship.
"He's a very sweet, very affectionate, wonderful-temperament dog," Dr. Greear said. "He's looking for companionship more than anything. He seems so confident to be around people which is really sweet."
UPDATE MARCH 2021:
A month after the story of the dog's rescue went viral, there is an inspiring update revealing a very happy ending to the story.
When no one claimed Alfonso—who is now known as "Miracle"—he went up for adoption. And after many requests, Friends of the River Rouge Animal Shelter realized that the perfect home would be with someone familiar with the dog… the man who saved his life.
That's right: after saving him from the freezing river, Jude Mead has officially adopted Miracle!
"Today the story came full circle," the shelter wrote on Facebook. Today the little Miracle dog was placed into the hands of the hero who saved his life."
"Miracle could not ASK for a better or more ideal family to love him! We are all so grateful for this happily ever after ending to this AMAZING story."
Thank you to everyone who helped rescue this dog! We're so glad he's doing well after such a harsh experience.
And we're so glad he now has a perfect forever home with the man who saved his life! What a perfect ending. Share this amazing story!