People can argue what they like about the effects of plastic pollution on our planet, but the simple fact of the matter is that it is a huge problem.
Not only does plastic ruin our environment, but it kills wildlife, as has been evidenced in our seas, our skies, our forests and fields. A couple of months back, we told you of a pregnant sperm whale that had been found dead with a stomach full of almost 50 lbs of plastic.
We're sad to say that it wasn't an isolated incident. A 17-yea-old deer recently died in Japan's famous Nara Park, and an autopsy undertaken by a veterinarian revealed almost 9-pounds of plastic inside of her stomach.
「どうして鹿苑で子鹿を見学できるのでしょう?」をテーマに、奈良の鹿愛護会の保護活動の歩みを探ります。
日時:2019年6月21日(金)13〜14時
講師:奈良の鹿愛議会 臨時研究員 東城義則
場所:奈良の鹿愛護会事務所多目的ホール
☆参加費無料☆
お申し込みはこちら→https://t.co/DrXokBj1iH pic.twitter.com/dVWvAWOtwN

— 一般財団法人奈良の鹿愛護会 (@nara_aigokai) May 17, 2019
Nara Park, situated close to the city of Nara, has for a long time been a popular tourist destination. Visitors flock to see the park in all of its beauty, and the deer are something of a sacred resident given their lofty ties to the Shinto religion.
Sadly, however, it would appear that the tourists aren't leaving the park as they find it. Littering has become an issue there, as well as many of the tourists irresponsibly interacting with the deer themselves.
Plastic, above all else, though, is considered the worst of the problems. According to SoraNews24, as many as eight deer have died in the park during 2019 for reasons unknown. Later autopsies then revealed that six of them had been killed by excessive plastic consumption.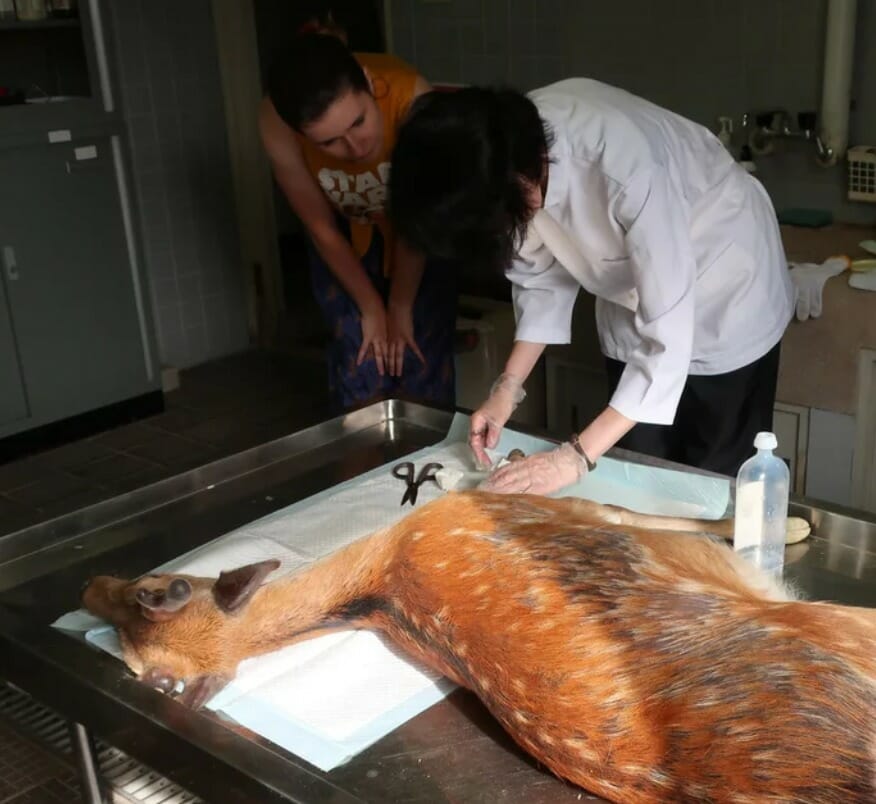 The case in point is the deer above. Veterinarians at the Nara Deer Park Association had noticed on March 23, prior to her death, that she was weak and malnourished. She died the next day.
突然ですが、これは何だと思いますか?これは死亡したシカの胃(第一胃)からでてきたビニール袋の塊です。重さは3.2キロもありました。
続きはスタッフブログ「奈良公園にゴミを捨てないで!」をご覧ください>> https://t.co/MlRLWbuiN5 #奈良の鹿愛護会 #donotlitter #naradeer pic.twitter.com/ExWekNyCE4

— 一般財団法人奈良の鹿愛護会 (@nara_aigokai) March 28, 2019
To better put the matter into perspective, the autopsy found the deer to weigh just 66-pounds, including the 9-pounds of plastic in her stomach. This meant that she wasn't able top regurgitate, digest, and ingest new food, making plastic the lead cause of her death.
Unfortunately, when deers sniff out food inside of a plastic bag – perhaps one that has been dumped or left behind – they consume the whole thing, unable to distinguish between what is safe to eat and what is harmful.
Authorities are now urging all guests to refrain from feeding the deer, unless its deer crackers purchased in the park itself.
鹿を守るエコバッグ
かのこのもようの蚊帳生地バッグ♪奈良公園のお散歩のおともに連れて行ってくださいね。

スタッフブログ>> https://t.co/e6HMfOgrqt pic.twitter.com/MmQlW4coUL

— 一般財団法人奈良の鹿愛護会 (@nara_aigokai) April 26, 2019
Please help us spread this message on the dangers of plastic by SHARING this article on Facebook.
Nara Park may be the focus of this story, but make no mistake: it is a worldwide problem we're facing.