They say beauty is pain, but not for Christina Applegate.
While accepting her star on the Hollywood Walk of Fame on Monday, the Dead to Me actress was not afraid to dress for comfort all while remaining to look as gorgeous as ever.
For her first public appearance since announcing she had been diagnosed with multiple sclerosis, Applegate wore a sleek black pantsuit and carried a matching sparkly black walking stick.
And though shoes make the outfit, in Applegate's case the lack of shoes – and socks! – not only made the outfit, but raised awareness about the disease that affects nearly 400,000 people in the U.S.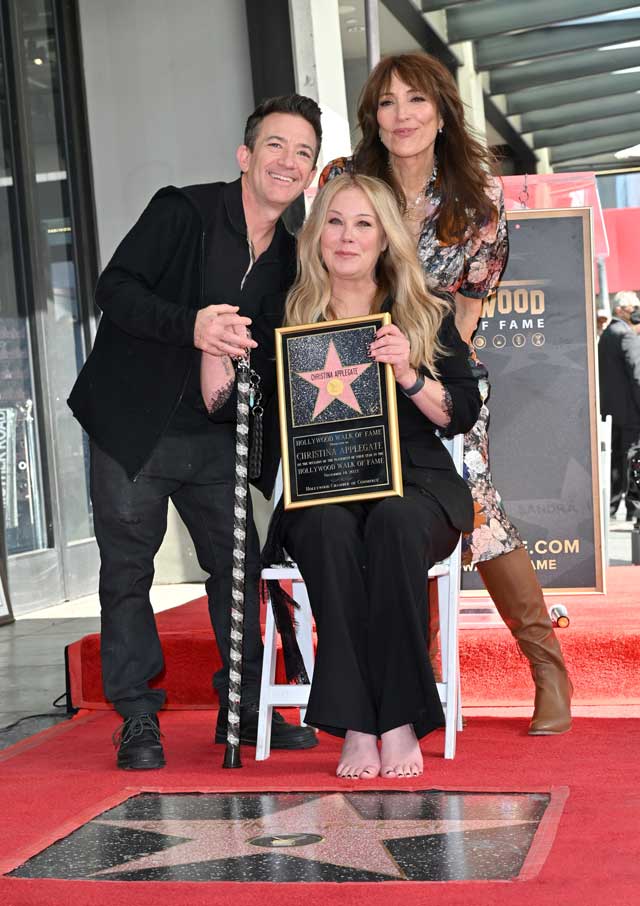 During the ceremony, which took place outside, the 50-year-old actress opted to go barefoot.
Many took notice, so she explained why.
"Barefoot. For some with MS the feeling of shoes may hurt or make us feel off balance. So today I was me. Barefoot," she shared on Twitter.
MS is a disabling disease of the central nervous system. Although symptoms may vary from person to person, many patients experience numbness or tingling in their extremities, an unsteady gait, and fatigue.
"MS can hit the systems that help you feel and move," Amit Sachdev, MD, the director of the division of neuromuscular medicine at Michigan State University, told SELF. "Balance requires feeling the position of the body and adjusting the position. When both feeling and moving are damaged, balance can suffer."
While going barefoot is one way to temporarily relieve symptoms, doctors recommend both occupational and physical therapy along with supportive footwear.
During her short but sweet speech, Applegate poked fun at her diagnosis.
"Oh, by the way, I have a disease," she said at one point. "Did you not notice? I'm not even wearing shoes. Anyhoo, you're supposed to laugh at that."
Christina, you are a warrior. Thank you for showing up and being your authentic self.
Please share if you're a fan of Christina Applegate and to spread awareness about MS.