One of the most memorable parts of this year's Super Bowl was the halftime show performed by Rihanna. The platinum-selling "Umbrella" singer's first live performance in five years was electrifying and even doubled as a surprise pregnancy reveal.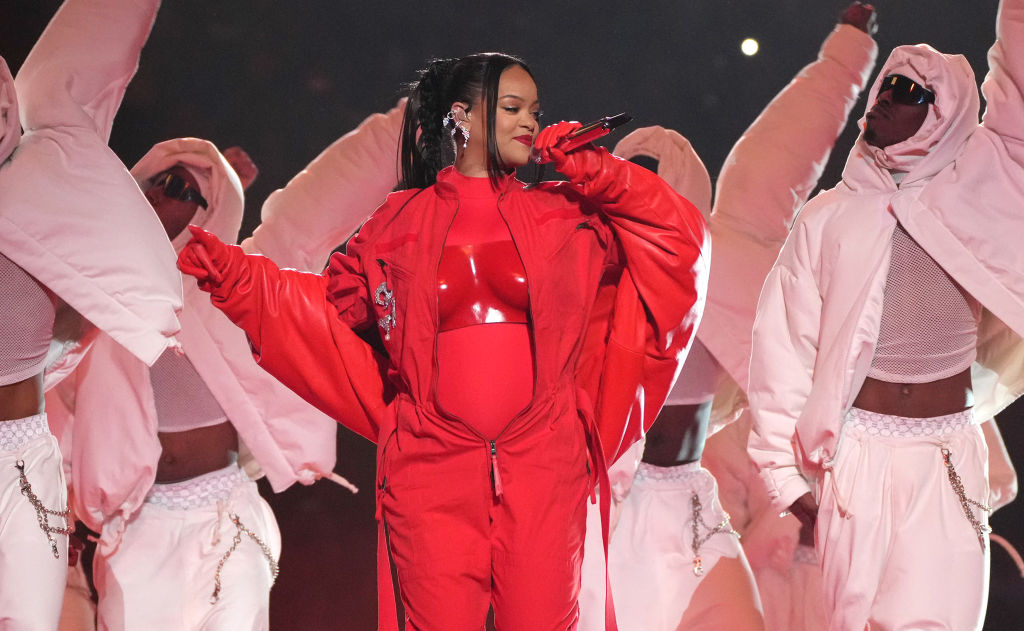 As the second-most-watched Super Bowl halftime show in history, the performance inspired countless parodies and tributes — and the most viral tribute to Rihanna came from a very unexpected place: a senior home.
In a TikTok that has now been viewed over 32.2 million times, a group of senior ladies at the Arcadia Senior Living facility in Bowling Green, Kentucky do an incredible recreation of Rihanna's performance:
"Our halftime show > Rihanna's halftime show," the senior ladies boast.
Many fans agreed: comments on the viral video call it "amazing" and the "best thing ever. "Do we have to wait until we're seniors to live there?" one commenter wrote.
"This is the best thing I've seen today," another wrote.
Ora Rampenthal, a resident who appeared in the video, says it was filmed in one take after just two or three practice runs: "We're just natural talents," she told the Bowling Green Daily News.
And after millions of views, the video reached Rihanna herself… and the megastar reached out to them in the sweetest way.
In a Facebook post, Arcadia Senior Living revealed that they received a bouquet of beautiful flowers with a card from Rihanna, along with her entertainment agency Roc Nation: "You Ladies Dance Was Amazing."
Everyone at the senior facility was moved by the recognition from such a huge star. "The moment we've hoped for, Rihanna has delivered!" they wrote.
"We were just in shock," Paige Oakes, the center's director of community relations, told BuzzFeed News. "This whole time, we've just been waiting for a response from Rihanna — not really thinking that it would ever happen because we know she's busy and we didn't really know if she saw it or not."
"We were so excited to know that Rihanna watched the video and saw our lovely ladies having fun and dancing to her music," Oakes told HuffPost.
Rihanna isn't the only one to send the seniors some flowers — they also got a bouquet of roses from rap superstar Jay-Z.
Oakes says she never expected the video to go as viral as it did. While going viral on TikTok is a dream for many people in younger generations, many of the seniors did not even know what the app was.
"I would say half were aware of TikTok, and the other half did not know what it was, so we had to explain it," Oakes told HuffPost. "We were just trying to find something new and engaging for the residents."
READ MORE:
She added that the now-famous seniors were "loving all the fame and attention." In a follow-up video, three of the seniors dance to Dannyice's "Look At Me Now," showing off their then-26 million views.
"Who said seniors can't do Tik Tok?" they wrote.
Maitlin Nuckols, the facility's director of life engagement, says she thinks the video has resonated because it shows senior citizens in a fun and positive light.
"Everybody loves to see the older generation letting loose and having fun," Nuckols told Buzzfeed News. "You always think of the older population in this way, and then I feel like this video just kind of shows a different side of them."
"It's fun to see yourself on a television screen," Rampenthal told the Bowling Green Daily News. "Who would have thought two weeks ago that we'd be on TV and all the various news media are calling us. … Just getting flowers from Jay-Z, we're in a whole different world."
These senior ladies definitely have the moves and had a great time — we're so happy to see Rihanna took notice and sent flowers!
Share this heartwarming story!