If you were about to turn 108 years old how would you celebrate your birthday?
A party with your family? A car parade? Or maybe exercising your right as an American citizen?
Michael Blaylock had an idea how his godmother could celebrate her birthday, and it was something she had been thinking about for quite some time.
"She said that, 'I know it's my birthday and I know I'm 108, but I have to vote," Blaylock told News4Jax.
According to Blaylock, his godmother, Ruth Graham Ray of Jacksonville, Florida, had been bothering him about voting all week.
And that's when he got the idea for her to finish her ballot and drop it off on her birthday.
As friends, family, and neighbors participated in a car parade, she completed her ballot, marking the 22nd time she's voted in a presidential election.
"She often talks about having lived through over 20 presidents," Blaylock said. "All the struggles and all the things that she witnessed as a young child, as a young woman, discrimination, separation, all of those things, and she said she can live to vote today at 108, she said she had to do it."
Ruth lived through many extremely difficult times in our country for both women and Black Americans.
"She's seen a lot in those 108 years," Blaylock said.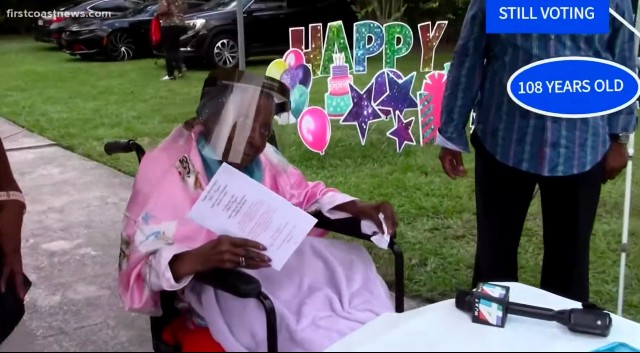 Once her ballot was complete, a retired police officer drove her to TIAA Bank Field where she dropped off her ballot.
"I just hope I can hold up and be an encouragement to somebody else," she said.
"She said in her own little way, 'If I'm 108 years old, and it's still important to me, then there should not be any excuses from anybody,'" her godson said.
Happy birthday, Ruth and thank you for inspiring others! It's women like you who will encourage the next generation.
Share this to wish Ruth a happy birthday.