When Naomi Pascal visited Glacier National Park in October 2020, her favorite stuffed bear named Teddy trailed along with her.
Unfortunately, Naomi and Teddy were separated, and Teddy was left behind.
But a stroke of luck led a family friend to Teddy nearly a year later, and she was able to reunite the two.
The stuffed animal was a gift to Naomi from her parents, Ben and Addie Pascal, prior to her adoption from an Ethiopian orphanage in 2016.
"We have lots of pictures of her getting the bear, and that was definitely her first toy. And so that was – it was really special that she was able to have that until we were able to go and meet her in person," Addie said.
Naomi carried Teddy on all her journeys with her adopted family. But it was during an adventure to Montana's Glacier National Park that Teddy got lost.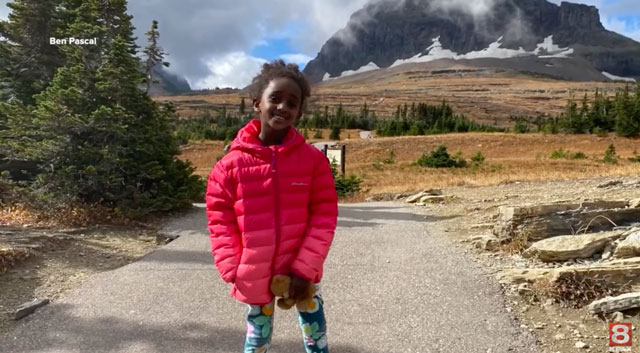 It wasn't until the family returned to their family friend Terri Hayden's nearby home, they realized Teddy was gone. Since it recently snowed the trail was closed and looking for the stuffed toy was impossible.
They reported the lost bear to park officials and hoped someone would find Teddy.
Someone did find Teddy, but they had no idea Naomi was looking for him.
While conducting some end-of-season cleanup, Ranger Tom Mazzarisi spotted Teddy.
The stuffed bear was sitting in a pile of snow and soaking wet.
"Typically, items that aren't worth much monetarily get thrown out," he said, according to the AP.
But rather than throw the bear out, he kept it, and when it was time for him to return to work in the spring, he placed it on the dashboard of his vehicle.
"It was a perfect little mascot."
In September 2021, Hayden and her family returned to the National Park. She wanted to do what she could to search for Naomi's bear.
"I'm a woman of faith," Hayden said. "And that morning I said, 'OK Lord, if this bear is around, please put that bear in my path and let me come home with that bear today.'"
As she and her adult niece were hiking, they came across a ranger's vehicle with Teddy inside. Hayden sent a picture to Addie, who confirmed it was Teddy.
"They just happened upon this ranger truck randomly and her niece saw Teddy in the dashboard," Ben said.
It wasn't long after that Teddy and Naomi were reunited.
"I felt excited because I didn't know I was gonna ever see him again," Naomi said.
The Pascals hope to meet Mazzarisi during a future trip to Glacier National Park.
After Hayden mailed Teddy to Naomi, she purchased a new bear for Mazzarisi to place on the dashboard of his vehicle.
I love stories with happy endings!
Please share on Facebook with your friends and family.