An emotional reunion took place at Denver International Airport Tuesday when an Army veteran reunited with an Afghan interpreter who saved his life while the two served together in Afghanistan.
"I'm just feeling emotional. A lot of memories are coming. And I'm very glad to see Capt. Scott after probably 15 years," Ahmad Siddiqi said.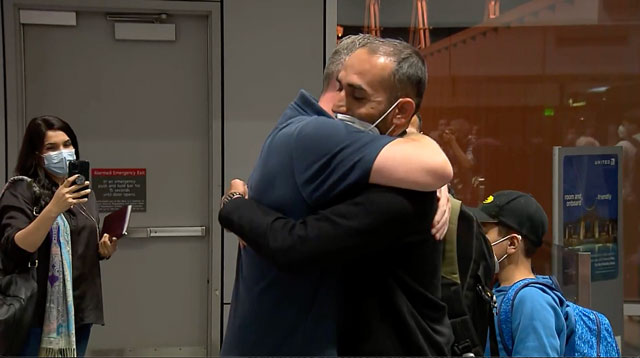 After American troops withdrew from Afghanistan and the Taliban took over Kabul, Scott Henkel worked harder than ever to save a man and his family who repeatedly put himself in harm's way for the United States of America.
"As soon as America pulls out, the Taliban's response will be swift and it will be brutal," Henkel told CBS 4. "By working with the U.S. forces, [the interpreter] aligned himself with us, and he received threats consistently for his life because he was in their eyes betraying Islam by helping the U.S."
The Army veteran and his wife had spent the last 10 years trying to obtain a visa for Siddiqi and his family, but just days before the Taliban took control their latest request was denied.
'I need your prayers. I feel so helpless.'
Kevin, as he was known to the American troops he served with, served as an interpreter for 10 years.
Henkel vowed that he wouldn't leave him behind, and he did everything in his power to make sure Kevin and his family were able to escape.
"It's still unbelievable how I was able to get out of the situation," he said after leaving Afghanistan.
When Kevin and his family left Kabul they traveled to Qatar, where a soldier said a military plane was going to a "better place." Not knowing the destination, they took the chance and landed in Italy.
However his final destination was the United States, Broomfield, Colorado to be exact, where he and his family would be neighbors with the Henkels.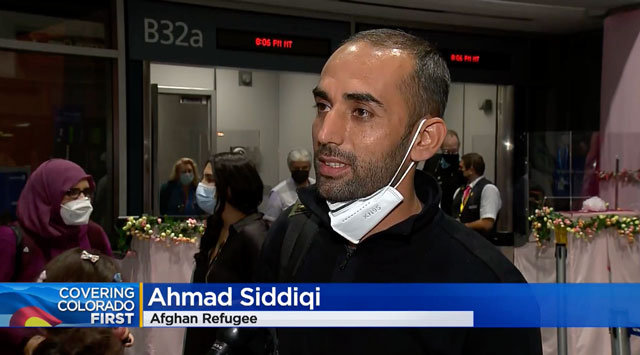 On Tuesday, Kevin and his family arrived at their final destination and were greeted by Henkel and his wife Heidi. Rep. Joe Neguse and Rep. Jason Crow were also present to welcome the Siddiqis.
"It's been a ride. We started in a place of complete desperation, fear and worry. And now I put my arms around him and it's like 'He's really here.' This is a real thing now," Henkel said.
While the Siddiqi family get settled in the US, they will be living with a police officer and his wife.
Prior to his arrival, Kevin had received multiple job offers, thanks to his ability to speak four languages. His children, who speak English, will attend the local school.
For the upcoming holiday season, Henkel plans to gather those who served with him in Afghanistan so they can all celebrate with the Siddiqi family.
This is exactly what needs to happen. We should be welcoming refugees with open arms. They helped our troops for so many years, we cannot turn our backs on them now.
I am so glad that the Siddiqi family made it to the United States and that they will be able to resettle near the Henkels.
Please share if you agree that everyone who helped the United States should be allowed to resettle here.