When Alcide Dominique arrived at work one windy, wet morning last month he was surprised to find a man sleeping on the porch of his business.
Instead of asking the man to leave for fear of putting off customers as many would have done, he and his business partner Sean allowed the man to stay and get some rest.
Alcide, from Opelousas, Louisiana, started talking to the man and found him to be polite, respectful, and very grateful for any help he could get.
He learned that the man's name was Jamie Brown, he was 33 years old, and had been living on the street for the past three years after his grandparents, who he'd been living with, passed away.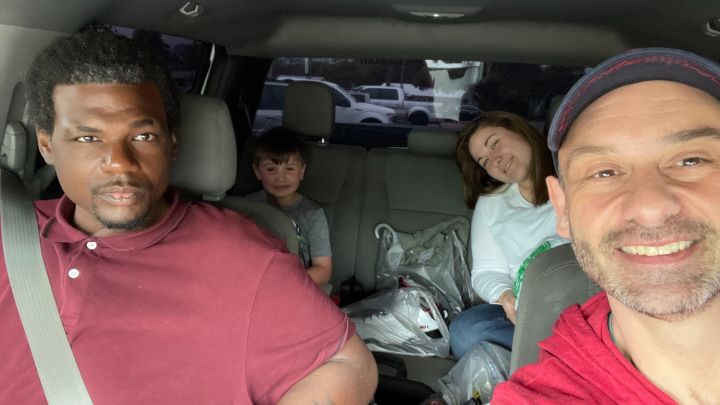 "He was very kind," Alcide said, according to Fox News. "He was just happy to be with people who were … treating him like a human being."
Alcide got the man some basic supplies and hot food; he even paid for him to spend the night at a motel so he didn't have to sleep outside in the cold and rain.
"All we were doing was just being a friend and getting him something to eat and getting him a room," he said. "That's all that we were planning on doing."
But he and his business partner wanted to do more to help. Sean had been filming during their time with Jamie and posted a short compilation of their journey on Tik Tok.
Sean captioned the video: "TikTok do your thing! Let's help him out. Everything sent to me will go directly to him."
The video quickly went viral and already almost 2 million people have reacted to it.
A GoFundMe was started and the donations soon started pouring in.
"In one night, I think we got maybe about two to three thousand [dollars],'" Alcide said. "It was like a blessing. … He didn't have to go back on the street.
"I mean the generosity of so many people … who just trusted us … is amazing to me. I think I would be kind of skeptical myself about sending money to a complete stranger off of something that I saw on TikTok. And that's where I'm inspired."
'Helping people is what we do'
So far, more than $30,000 has been raised to help. Jamie and Alcide intends to help him find suitable housing, transportation, and work so that he can maintain his independence.
"It would be a tragedy for him to end up being on the streets again a year from now," he said. "So our goal is to work with him and take the time that we need."
"Helping people is what we do," he posted on his business Facebook page. "We are honored and thankful for all the attention we have received throughout the entire country. Thank you all so much. Hopefully a foundation that helps others get back on their feet is in the future, but until then you know where to find me."
Alcide said he was moved by all the complete strangers who have helped Jamie after he was dealt such a rough hand.
'Without y'all, I would be nowhere'
"You have to ask yourself what's important in life," he said. "[Is it] getting off work at five o'clock and going home to watch TV, or is it me getting off work at five o'clock to go check on somebody and see if they're OK?"
Jamie has been overwhelmed with the amount of support he has received.
"It's kind of spectacular, like, you don't see that every day," he told KATC-TV. "Without him and Sean, I'd be nowhere … without y'all, I would be nowhere."
Not everyone is as lucky as we are to have a roof over out heads, food to eat, and people that love us; these are basic neccessities that most of us take for granted.
I hope this big-hearted business man's actions inspire others to treat people less fortunate than us with all the love and respect they deserve.