Monique Jones was only 26 weeks pregnant when she began experiencing COVID-19 symptoms. She tested positive at the beginning of September and was intubated a few days after being admitted.
Three weeks later, during an emergency c-section, she gave birth to a daughter.
Jones, 28, spent the next several days in the ICU before she woke up and was transferred to rehab. And though she was no longer in the ICU, she always kept a special place in her heart for one of the nurses who cared for her.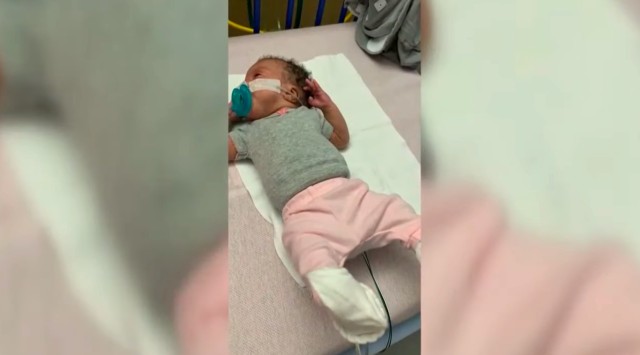 Jones of Ferguson, Missouri, told Good Morning America that during her pregnancy she rarely left her house except to go grocery shopping and when she did leave she always made sure to wear a mask and wash her hands.
But late in the summer she began to feel some of the symptoms associated with COVID-19.
She tested positive for the virus on September 4 and was hospitalized. Days later, her condition was not improving.
"It was possible that I wouldn't live–that's all I was thinking," Jones said. "They asked me if it was possible to take my baby out. At first I told them no, but I wasn't getting any better."
She was intubated two days after being admitted.
One of the ICU nurses, Caitlyn Obrock, noticed how nervous Jones was about being intubated.
"She was scared," Obrock said. "I was very invested in her, hoping and praying for a good outcome."
Days after giving birth to a baby girl, Zamyrah, Jones woke up and was transferred to a rehabilitation facility, while Zamyrah went to a NICU at St. Louis Children's Hospital.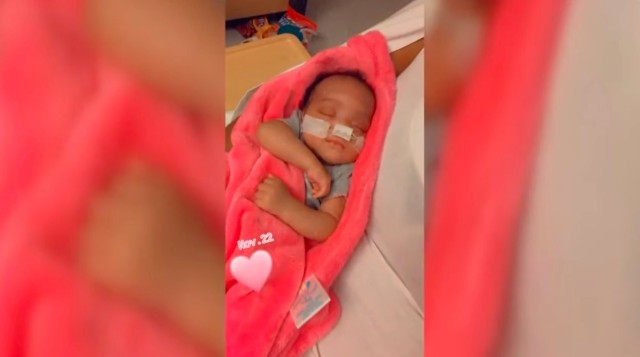 While Jones worked on regaining her strength, Obrock worked on making sure Jones was prepared to take her daughter home.
She raised $2,000 for baby gifts and threw a baby shower for the new mother.
"It was to boost her morale," Obrock said. "The way she started out motherhood with this baby was unfair and we wanted her to know how special and loved she is."
And Jones certainly felt the love from all of her doctors and nurses.
"I'm not sure I could have made it without them," she told KMOV.
After Zamyrah left the hospital on December 10, Jones asked Obrock if she would be her daughter's godmother.
"She's a miracle," Obrock said of Jones. "Her and her baby."
How precious. What an incredible gift for both women. I hope they are able to celebrate this joyous moment together very soon.
Share this special story on Facebook!