There's something about sanitation workers that children find fascinating. Every so often we'll hear a story about an adorable friendship between the two, and while this one didn't start out as a friendship, I bet they'll be friends now.
Elias Quezada, 7, was outside at a Hillsborough County, Florida home during a recent garbage pickup day.
When the garbage truck was a few houses away, the boy jumped into the can.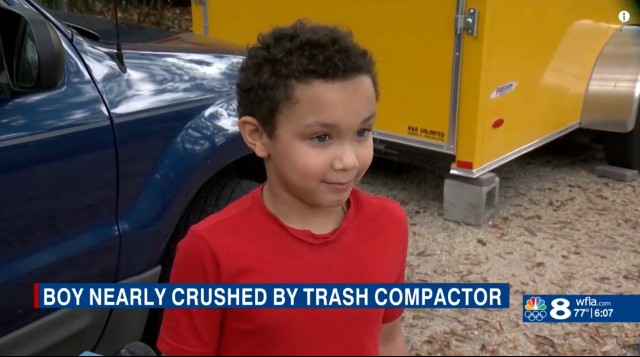 "In a minute he went out and the next thing I hear is the sound of the truck and a guy screaming," his grandmother Carmen Salazar told WFLA.
The garbage truck had picked up the can where Elias was hiding and tossed him inside the truck.
"I got picked up and thrown, to where I was going to be a mashed potato," the 7-year-old said.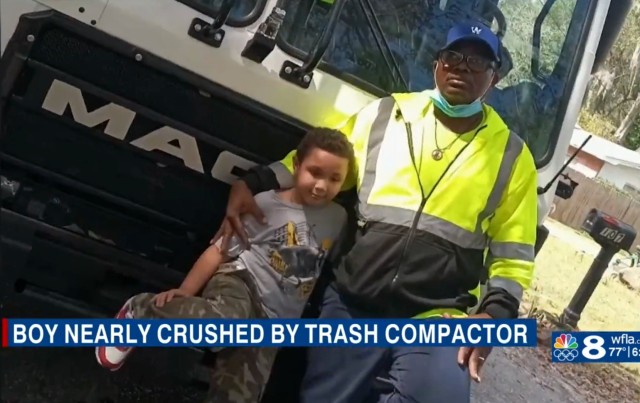 Thankfully, the driver Waldo Fidele was paying attention and spotted something odd plop into the truck from the vehicle's surveillance camera.
Fidele quickly shut off the truck's blade and called 911.
When he rushed to see what fell into his truck, he was shocked to see that not only was it a boy, but that he was happy.
Everyone involved was extremely happy for Fidele's quick-thinking. Had it not been for him, who knows what would have happened to Elias.
Thank you Waldo! You saved this little boy's life.
Share this post on Facebook to thank Waldo, and to share some good news with everyone on Facebook.